Dear Friends,
We'd just gotten used to spring weather beginning in early February when in mid-March a two-day storm visited us, complete with strong wind that created snow drifts in some place and no snow in others.
The first rains of spring are falling, nourishing the earth as it prepares to bloom.
And then again, today, there's snow.
See photos of Abbey retreat life here and here.
Bhikshuni Thubten Chodron & the Sravasti Abbey Community
COVID-19
Despite hearing the Buddha's teachings about impermanence, most people were taken by surprise by the coronavirus pandemic. We thought it was in a far-away country, that such things wouldn't happen to us. We thought that the government was on top of the situation. And then in less than two weeks, our lives changed drastically here in the US.
We're all in this together and it's an opportunity to genuinely put the mind-training teachings into practice. To this end, many of our Bodhisattva's Breakfast Corner talks have been on this topic because we know many people are disoriented, anxious, and fearful. The Dharma can really help our minds in this situation.
Please watch these talks on Youtube here and use the Buddha's teachings to transform your mind, to see the goodness in the world, and to dispel anxiety. You can find more practice resources on our website here.
Many of you have emailed us to ask how we are and if we need anything. We are so grateful for your care and compassion. We're well and have good circumstances for sheltering in place compared to so many people. Only one person goes out once every two weeks, so we have little danger of infection, and we can take walks in the forest and meadow, unlike people living in the city.
Three of our friends are stuck in India and Nepal and cannot get out because all international flights have been canceled. We're trying to help them, but embassies are not very responsive now.
We've moved upcoming teachings and events online as much as we can. Check the Abbey website Events page to stay in touch with ways we can share the Dharma together.
Winter Retreat Concludes
After three wonderful, fruitful months, our winter retreat has concluded. We offered the Dorje Khadro fire puja to purify any mistakes or negativities created during that time.
This was followed by a go-around where each person talked about their experience in retreat. These go-arounds are personal and bond community members, as we can see and hear about how each person works to reduce their afflictions and develop their good qualities.
We're now in the process of adjusting to post-retreat time, but this year it's different than previous years. Instead of planning for courses and retreats at the Abbey, we're planning how to put more live Dharma material online. Ven. Sangye Khadro's retreat on "Peaceful Living, Peaceful Dying" from April 17-20 will be livestreamed. More news about how to participate will be on the Abbey website soon.
Ven. Chodron's talks at North Idaho College, Auntie's Bookstore in Spokane, Lion's Roar Dharma Center in Sacramento, and her European teaching tour in the Netherlands, Germany, and Russia have all been postponed.
Instead, she'll give a series of nine talks on "Parting from the Four Attachments" in April. Since these talks are especially for Europeans, Israelis, and Russians, they will be in the morning at the Abbey so Dharma students in those countries can tune in live in the evenings. Learn more here.
Sharing the Dharma Day

As in previous years, the Sharing the Dharma Day at the conclusion of the winter retreat is a celebratory one, with many people—friends, supporters, and newbies to the Dharma—gathering together. Only this year, we gathered online, not in person, at our first live-streamed Sharing the Dharma Day.
The event drew over 800 live views, including friends from Switzerland, Uruguay, Ukraine, Israel, Netherlands, Canada, Scotland, Slovenia, Argentina, Germany, Spain, and Norway.
The community was so happy to connect with all of you again and to know that you were connecting with us too. If you watched the entire program—the introduction, meditation, Dharma talk, and chanting—you got to see some of the nuns tear up while chanting "She Carries Me," and we heard that some of you had tears in your eyes too.
(Sorry friends in Russia, Singapore, Malaysia, and Indonesia. We know it was in the middle of the night for you, but you can watch the full archived livestream event here. Or watch it in smaller bits—meditation, teaching, and chanting—on the Sharing the Dharma Day playlist.)
In the afternoon we tested out having discussion groups via Zoom for the first time, which worked out very well. 24 people joined us online and 2 people phoned in to discuss how the self-centered thought has affected our responses to the pandemic and how we are all working to tame our minds and cultivate compassion. Everyone expressed their appreciation for the opportunity to discuss the Dharma and we will continue to offer discussion groups in this format for upcoming online Abbey events. 
Having Sharing the Dharma Day online was a new experience for all of us, and we'll do it again on April 12, which is also our kathina day.
Kathina is an ancient Buddhist celebration during which offerings are made to the sangha who completed the varsa, the three-month monastic retreat. Varsa is usually called the rains retreat because in India they did it during the summer when the monsoon rains fell. We do it in the winter as a snows retreat. Varsa is different than our annual winter retreat, although some portions of them overlap. You can read more about kathina here.
Stay tuned for details on the April Sharing the Dharma Day and Kathina event here. 
Personal Retreats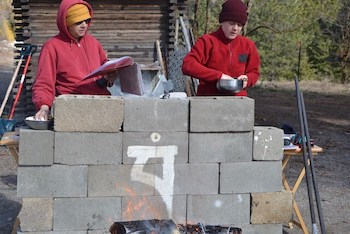 During our retreat time this year, three nuns—Vens. Tsepal, Nyima, and Lamsel—did deity retreats to fulfill commitments made at the time of empowerment. Shanti Cabin, the cabin at the end of the garden that houses our guest teachers, became their retreat "cave" for five weeks.
After they completed the retreats, the nuns did large fire pujas to purify all mistakes made in the practice and to accumulate merit by making offerings to the deities. They, and the nuns who assisted them in the closing fire pujas, felt a wonderful sense of renewal afterwards.
Meanwhile, Ven. Lobsang Donyo, an American monk studying at Sera Monastery in India, is staying with us for a while. He did personal retreat in the log cabin at the end of the garden, and when the rain stops, he too will do a fire puja.
The Buddha Hall

Some nuns had a "dual retreat," part-time in the Meditation Hall meditating on the Buddha and the stages of the path, part-time working on the Buddha Hall project.
One big update is that we have decided on the general contractor for the project. After spending weeks interviewing excellent contractors and looking at some of the buildings they have constructed, we chose Young Construction Group headed by John Young.
Young Construction is a well-established and well-respected company. They have worked in the Pacific Northwest for decades and have experience with constructing churches. Familiar with the kinds of challenges religious groups face when construction projects are funded by donations, they will set up a construction plan and budget that has some flexibility and will be refined as construction proceeds.
The next step is to go over the design documents and construction documents with the architect, contractor, acoustician, and engineers to make the plans as specific as possible. Doing this saves money as change orders made once construction has begun increases the cost.
And the coronavirus came…
Our plan was to level the land, take down trees, and prepare the construction site this summer or autumn, and perhaps to add some of the infrastructure. Then in May or June 2021, after the road restrictions are over, we thought construction could begin in earnest. John estimates the building can be completed in about ten months, if we have all the funds for the project when construction begins or within a few months after that.
And then the coronavirus came…
In this ever-changing situation we have decided to go ahead with all our planning. There are tons of decisions to make, ranging from where to put pipes to what kind of flooring to use. The more specifics we can decide on now, the easier it will be when construction begins. We'll wait until the summer to decide whether to prepare the construction site this year or to wait another year.
We'll keep you posted. But the Buddha Hall is definitely a go! As the Abbey continues to grow both in the number of residents and guests, its necessity becomes ever more apparent.
Tim, our architect, has created two new, beautiful color renderings of the future Buddha Hall. You can see them up close here.
We're still inviting meditators to recite Shakyamuni Buddha's mantra to help overcome obstacles to the project. Go here to join in. To date, we've collected over 2.3 million recitations!
Dharma Relief Project: Help Now
Sravasti Abbey has joined with Dharma Relief Project COVID-19, an effort by Buddhist organizations to bring desperately-needed protective masks to hospitals in North America.
Dharma Relief Project is coordinated by Dharma centers associated with Dharma Drum Mountain, one of the most influential international organizations in Chinese Buddhism, based in Taiwan.
Find details, donate, and volunteer your support on the Dharma Relief website.
More News
The Abbey's 2019 Annual Report is out. Reading it is a cause for rejoicing in the merit accumulated by residents, friends, volunteers, and benefactors as we shared the Dharma in 2019.
His Holiness the Dalai Lama offered a special message on working with our minds and with each other during the coronavirus pandemic. Read his words of wisdom here. 
Buddhist representatives from America, Germany, Australia, India, and Italy came together online to discuss how they and their communities are responding to the pandemic and taking compassionate action during this time. Watch the recording of the discussion here. 
Eric's poetic essay, "Ghosts of Goodness," urges as all to "show up" in the face of the pandemic. Read it here, where you can also see Ven. Chodron's reading and commentary.
Stay home, stay safe, stay well and look for Dharma resources on ThubtenChodron.org and SravastiAbbey.org to use this challenging time to deepen your Dharma practice.
Upcoming Events
Here's what's happening online in the next few weeks:
See what else is coming up in 2020