Dear Friends,
Spring is upon us here in northeast Washington State where winter was unusually mild. The snowbells have miraculously appeared from beneath last year's autumn leaves, the crocuses will be next, followed by the daffodils, and a garden of flowers will bloom as spring progresses.
The turkeys are making a cacophony with their mating rituals, while the deer eagerly await something else to eat besides branch tips in the forest and the hay we give them for dessert.
Meanwhile, Abbey residents are transitioning from silent retreat mode to more active life.
Bhikshuni Thubten Chodron & the Sravasti Abbey Community
Concluding Winter Retreat
It was clear from the go-around sharing at the end of retreat that everyone benefited greatly from the time to be silent and meditate.
People spoke about understanding the Dharma more deeply, of feeling cleansed of negativity from purification practice, and being supported by the accumulation of merit from doing the practice of Green Tara.
During the retreat, some people also did a session of prostrations to the 35 Buddhas or mandala offerings. The conclusion of the retreat was marked by a fire puja to Dorje Khadro.
Vens. Khadro and Tsepal did the Cittamani Tara retreat, which culminated in a more elaborate fire puja. Vens. Nyima and Jampa will soon do an elaborate fire puja to conclude their Vajrayogini retreat as well. See end of retreat photos here. 
Those who did the Retreat from Afar benefitted in powerful ways too. One retreatant wrote that when she heard that strong storms with tornadoes were approaching her city, she recited the "Praises to the 21 Taras" and prayed that no beings would be harmed. As it turns out, the storms passed with few injuries and damage! Read more about her experience praying to Tara here.
Vinaya Course
The gem that topped off our winter retreat was a series of Dharma talks by Venerable Heng-Ching Shih, who taught us from Taiwan over Zoom.
Ven. Chodron first met Ven. Heng-Ching in 1986 when she went to Taiwan to receive bhikshuni ordination, and Ven. Heng-Ching has been an elder Dharma sister and teacher to Sravasti Abbey monastics ever since.
After receiving ordination in 1976, Ven. Heng-Ching earned a PhD in Buddhist Studies from the University of Wisconsin-Madison and then taught Buddhism for several decades at Taiwan National University. She is now retired and teaches Vinaya at Pu Yi Nunnery in Taipei.  
The six days of classes covered a variety of topics concerning how to ordain and train monastics. We also learned about how Buddhist monasteries and temples are organized in Taiwan and were delighted to hear stories about Venerable Heng-Ching's life.
We also had an evening discussion with Ven. Zhaoyin, the abbess of Pu Yi Nunnery, and Ven. Diguan, who was one of the bhikshuni guides at the full ordinations of several Abbey nuns. We cherish our opportunity to learn about how to build flourishing monastic communities from these well-disciplined and compassionate nuns.
Dharma Talk for Singaporean Youths
Ven. Chodron spoke on "Building Your Inner Confidence" to about 70 youths in an online talk organized by the Singapore Buddhist Mission. She encouraged them to have a good motivation and be a responsible person, rather than trying to create an image to impress others.
As Ven. Chodron shared, comparing ourselves to others leads to arrogance and jealousy, which are not helpful emotions. The process of comparing ourselves to others is also skewed because we don't know what others' internal situation is. There may be 100 people taking a test, but only one can be ranked best. That doesn't mean the others are failures.
Each of us has our own talents, skills, and interests, so we can discover what those are for us, and then use them to make a positive contribution to society. That will bring much more internal satisfaction than competing with others. Watch the talk here. 
Dharma for College Students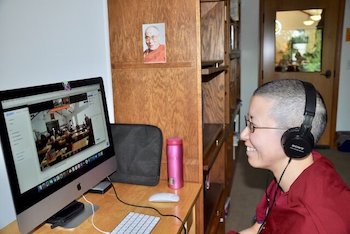 Earlier this year, Pepperdine University interviewed Ven. Chodron for a textbook on world religions. The edited transcript is now available on her website. You can read it here.  
Keeping up our connection with Pepperdine University, Vens. Semkye and Damcho shared about Buddhism and monastic life in three sessions of a World Religions class over Zoom.
The nuns were impressed by the students' insightful questions, ranging from the impact of popular culture on Buddhism to how to be our own best friend. Both groups rejoiced at the opportunity to learn from each other through the power of technology. 
Ven. Chodron also spoke in a graduate seminar on "Buddhism, Modernism, and Mindfulness" for the University of British Columbia in Okanagan, BC, Canada. She had a stimulating discussion with students about the differences between Buddhist and secular mindfulness in terms of motivation, context, methods, and results. She also shared about her life as a Western Buddhist nun and the benefits of monastic life. Listen to the discussion here.
$250,000 Buddha Hall Jumpstart Challenge
To ensure that Buddha Hall construction starts this summer, a trio of generous donors has offered a $250,000 challenge. They invite Abbey supporters to match their gift by July 14, bringing a total of half a million dollars.
These donors—who modestly prefer anonymity—know that one person alone does not accomplish great things. But when people join together in a virtuous cause, the results can be amazing. 
When all our gifts—large, medium, and small—come together, they are like drops steadily filling an entire ocean. Every gift counts. Further, since the Buddha Hall will be a place specifically designated for creating virtue, everyone who helps to build it receives a portion of the merit or good karma of the people who practice there.
Go here to learn more and make an offering.
Online Group Practices
Shakyamuni Buddha
In addition to monetary offerings, the Abbey worldwide community is engaged in practices to help generate merit for the Buddha Hall project to go smoothly.
Abbey friends from the daily lay-led Zoom practice group will host a Mantra Marathon on April 3. There will be multiple Shakyamuni Buddha meditation sessions throughout the day, culminating with an Abbey-led session at 7 pm Pacific Time. Learn more and sign up here.
Medicine Buddha
Since last July, we've been having a monthly Medicine Buddha puja on Zoom to support all living beings who are ill. People gather in front of their screens, read the names of those they want to make special dedication prayers for, and do the meditation on the Medicine Buddha.
These Medicine Buddha pujas draw people internationally, and many join in. People frequently tell us that doing the meditation together brings hope and peace into their hearts. And that, of course, is one of the purposes of the Abbey! Learn more and sign up here for the next puja on April 18. 
Kathina
To conclude the varsa — the three-month monastic retreat — we will share the kathina ceremony over Zoom and YouTube on Saturday April 24, beginning at 7 pm Pacific Time.
Practiced since the Buddha's time, kathina is an opportunity for the lay and monastic communities to connect and celebrate our interdependent relationship. You can read about it here.
During the kathina, lay practitioners acknowledge and take part in the great merit created during varsa by offering robes and other requisites to replenish monastery supplies after the long retreat. The Ong family in Malaysia has kindly offered the "robe of merit" for the 2021 ceremony.
People often ask us what else we need for kathina, so we've posted a special section on our Wish List here. Find out how to join us for kathina here.
Sravasti Abbey Friends Education 
The next Sravasti Abbey Friends Education (SAFE) semester begins on April 12.
SAFE online courses are designed to help people develop their understanding of Buddhist teachings through study, discussion, and meditation. 12-week courses are offered freely twice a year and feature teachings by Ven. Chodron and her teachers. Learn more here.
A SAFE student shared, "I keep thinking about SAFE taking place against a backdrop of a pandemic, the elections, the fires and more. I personally feel, and I know from discussions with others, that this course and the Abbey teachings overall have been a deep well that has sustained so many of us."
Registration for SAFE 1A is closed, as we have reached the maximum number we can accommodate. However, there is still space in SAFE 1B up to SAFE 10. Write to the SAFE Coordinator to register.
The next SAFE semester begins on Sept 13. Registration opens on August 16. 
Call for Web Volunteers
Thanks to the kindness of volunteers worldwide, Dharma materials on Venerable Chodron's website are available in 12 languages in addition to English.
To make the website more user-friendly for those learning the Dharma in different languages, we are looking for volunteers with these skills to implement the Polylang WordPress plug-in on ThubtenChodron.org:
1. A project manager with experience in website localization, who can coordinate a distributed team of volunteers.
2. A web developer with advanced experience with WordPress. Experience with website localization and the Polylang plug-in would be a bonus.
If you're able to help or willing to learn new skills and software to share the Dharma, please write to communication [dot] sravasti [at] gmail [dot] com and let us know how you can contribute.
More News
Healing the Body and Mind
 More Dharma Online
A School in India
Upcoming Events
Here's what's happening online in the next few weeks:
Plus regular ongoing teachings:
Check the Abbey Events page for 2021 schedule updates