Dear Friends,
The warm summer weather finally came after a beautiful spring. The plentiful spring rains have made the grasses exceptionally green and the wildflowers plentiful. (Of course, the same can be said of the weeds.)
The turkey chicks are growing—they're approaching teenage years, giving Mama turkey worries. We spotted Papa Moose one day in the forest, and Mama Moose and Baby Moose on another day. Ven. Jampa saw a bear, Ven. Chodron saw a skunk, and there was even the spotting of a huge barn owl.
The insects also make themselves known, but due to a contraption that Ven. Jampa brought back from Germany, we can easily and quickly catch them and return them to their home outdoors.
The cherries are abundant and raspberries flourish in the new beds Sally and Ven. Yeshe put in last fall. Enjoy Abbey Life photos here.
We hope you are staying safe, only going out when necessary, and wearing a mask when you do. Your precious human lives are important!
Bhikshuni Thubten Chodron & the Sravasti Abbey Community
Green Tara Retreat
Ven. Sangye Khadro led a week-long Green Tara Retreat, which included commentary on both the Green Tara practice and Chapter 9 of Shantideva's Engaging in the Bodhisattva's Deeds.
She taught extensively on emptiness and the two truths, which sparked great questions from Abbey residents as well as over 250 online participants.
Ven. Khadro also shared her thoughts and advice on how to bring Green Tara to life in our practice by looking closely at her qualities.
We also learned about the eight dangers—afflictions such as attachment, anger, and arrogance—especially discussing how to identify and abandon them since they are major obstacles on our spiritual path.
During the retreat, the Abbey community led two meditation sessions a day joined by over 150 people, and facilitated group discussions over Zoom with close to 50 participants. These discussions were helpful and inspiring. Many online retreatants told us how helpful the teachings were and how much they felt part of the Abbey community although they weren't able to be here in person.
Watch all the retreat sessions here and see retreat photos here.
The Buddha Hall
The Abbey's Buddha Hall team—Vens. Chodron, Tarpa, Semkye, Samten, and Damcho—are still working steadily.
Our contractor needs every decision made before he bids the job out to his sub-contractors, so our team is going through the details of selecting lighting fixtures, carpeting, and sound diffusers, conduit, and so forth.
The artists who will make the statues for the central altar live in France and may begin to make the two side statues of Ananda and Mahaprajapati Gotami this summer. The main statue of the Buddha is so large that it may be constructed on site at the Abbey.
The contractor will give us an accurate cost projection by the end of the year. He's prepared to build with just a few months' notice. Timing, of course, will depend on many things, including the situation of the pandemic and the Abbey having sufficient funds.
We will build as soon as the conditions are right, although we can't predict when that will be. We are certain, however, that this project will be even more vital when the "Covid-time" is behind us.
Stay updated on Buddha Hall developments here.
Teachings for Indonesians

Ven. Chodron has taught in various places in Indonesia over the years and feels a closeness with the people there.
When Wihara Ekayana in Jakarta invited her to give a Dharma talk on Zoom, Ven. Chodron happily accepted to speak about "Living the Buddha's Teachings in the 21st Century."
The audience was very engaged and there were so many questions after the talk that a second talk was scheduled to respond to them. Watch the talks here with Bahasa Indonesia translation provided.
Ven. Chodron will give two more online talks hosted by Wihara Ekayana on August 29 and October 10 at 7 pm Pacific Time. Find details here.
In addition, Wihara Dharmakirti in Palembang will host online teachings by Ven. Chodron on "The 37 Practices of Bodhisattvas" once every two weeks, beginning August 22 at 7:30 pm Pacific Time. Find details here.
Ongoing Online Outreach
Online outreach, prompted by the pandemic and enabled by the wonders of technology, allows Abbey monastics to share the Dharma worldwide.
Ven. Sangye Khadro is teaching a weekly course via Zoom hosted by Amitabha Buddhist Centre in Singapore on the Seven-Point Mind Training. Watch the archived teachings here. Learn more about the teachings here.
Meanwhile, Ven. Nyima is also offering mind training teachings to Spanish-speaking Dharma students via Zoom at the request of Ganden Shedrub Ling in Puerto Rico. Up to 100 participants from Mexico, Costa Rica, Colombia, Puerto Rico, and other locations joined the first session, which ran over two hours. The group is delighted to continue with the series of teachings. Learn more here.
In addition, at the request of a group of Arab students, Vens. Chodron, Khadro, and Tsepal have begun teaching them as well.
Ven. Sangye Khadro also continues to meet with the Sandpoint, Idaho groups, and Abbey nuns meet with the Spokane UU group on Zoom every week.
We are truly rejoicing in these opportunities to share the Dharma widely and repay the kindness of all sentient beings.
More Dharma Teachings
Wisdom Dharma Chat with Ven. Sangye Khadro 
Ven. Sangye Khadro participated in a Dharma Chat with Wisdom Publications on July 22. Watch the interview here. Wisdom Publications CEO Daniel Aitken interviewed her about how she met the Dharma, her first teachers—including Lama Yeshe and Lama Zopa Rinpoche—meditation techniques, and more.
Ven. Khadro's How to Meditate: A Practical Guide, first published in 1984, remains one of Wisdom Publications' best-sellers. 
Teachings for South Carolina
South Carolina Dharma Group in Columbia had invited Ven. Chonyi to visit their center this year, but the pandemic nixed that idea. Instead, she joined them and Dharma friends from other Southern states for a two-day weekend "retreat" on the Fortitude to Accept Suffering.
Drawing from the Great Treatise on the Stages of the Path to Awakening (Lamrim Chenmo) and other sources, they shared teachings, meditations, and discussion to apply Lama Tsongkhapa's clear instructions to issues brought on by the pandemic. To demonstrate an effective way to use our suffering to develop compassion, Ven. Chonyi led a taking and giving meditation—tonglen in Tibetan—which you can listen to here.
Monastics and Social Issues
Given the challenging nature of the times, we've been keeping up with the twin issues of racism and police brutality. In the last few weeks, the related issue of federal troops going into our cities has become important too, as we work to preserve our democracy.
We've received emails with varying opinions on our comments on current issues on our Bodhisattva's Breakfast Corner talks: some people are critical, saying monastics should be praying and meditating, not engaging in politics. Others appreciate our showing how to look at current events from a Dharma perspective with compassion.
To quote one message we received: "I absolutely love your videos on racism. I am a Buddhist disciple of the late Venerable Hsuan Hua. I have accused Buddhists who dodge important social issues like racism of what I call 'Dharma Distancing' or 'Spiritual Distancing.' You are definitely not in that category—you are addressing these issues head on. Thank you!"
Abbey monastics believe that the Buddha's teachings must apply to all aspects of our lives. When we discuss racism and other such topics, we are doing so from an ethical perspective: What thoughts and actions create virtuous karma and which are nonvirtuous? How do we cultivate compassion and friendliness with those whose views are different from ours and for those who we believe are engaging in harmful actions?
We do not tell people who to vote for, but we try to help people to avoid falling into anger or despair, two unrealistic and unbeneficial attitudes.
Speaking at the American Psychological Association's 2020 Conference
Ven. Jigme was invited to speak at the keynote session of the American Psychological Association's 2020 conference. Originally scheduled to be held in Washington, DC, the conference was reformatted to take place via Zoom due to the pandemic.
Entitled "Transcending Divisiveness and Polarization," the keynote session entailed brief presentations from Rev. Mpho Tutu Van Furth, daughter of Archbishop Desmond Tutu, and Ven. Jigme who spoke about Buddhist methods for transforming our mind through meditation and thought training.
Following the presentations, experts in one or more trauma psychology areas participated in an unscripted conversation on the issue of practice guidelines with courage, clarity, and kindness. Ven. Jigme shares her personal experience of being part of the conversation here.
In Praise of Great Compassion
In Praise of Great Compassion, Volume 5 of The Library of Wisdom and Compassion series co-authored by His Holiness the Dalai Lama and Ven. Chodron, will be released by Wisdom Publications on August 11!
Continuing with His Holiness' teachings on the stages of the path to awakening, this volume lays out methods to cultivate the expansive mind of bodhicitta—the aspiration to become fully awakened in order to benefit all sentient beings—and the immeasurable love, compassion, and joy that lead up to this incredible state of mind.
Watch Ven. Chodron share about the book in a Wisdom Publications Dharma Chat here. Learn more about the book here.
In more news on The Library of Wisdom and Compassion, Volume 3, Samsara, Nirvana, and Buddha Nature, is now available in Spanish!
Forests and Gardens
This summer, we miss all the volunteers who come to help us in the forest and gardens.
We appreciate Dave who mowed the forest trails, which were very overgrown given all the rain this spring.
Ven. Pema is managing the flower garden and Ven. Nyima the vegetable garden, and Ven. Semkye looks after the fruit trees.
We've been enjoying organic cherries and can see the many apples growing on our old, huge apple tree. We'll turn these into applesauce to eat over the winter. A few pears and plums are growing too.
There's enough firewood bucked up for this winter, but we need help to buck up some wood for next winter so it can dry over the next year.
Gratitude for Your Kind Support
We are frequently astonished at your outpouring of support for the Abbey community and our efforts to share the Dharma online. Kind emails and letters, surprise food packages in the mail, homegrown produce or grocery boxes dropped by the kitchen door, offers to mow trails or fetch the garbage and recycling, regular offerings made online, and more—your kindness inspires us. Thanks to every one of you for your generosity and for helping to create peace in our chaotic world!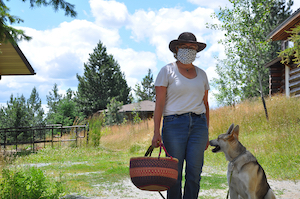 More News
Fundación Casa del Tibet in Barcelona made a video of 85 people saying "Happy Birthday" to His Holiness the Dalai Lama on his 85th birthday on July 6. Ven. Chodron was one of them. Watch this joyful video here.
Read His Holiness the Dalai Lama's statement on the passing of Congressman John Lewis here, and watch his conversation with the Metropolitan Police in London here.
ABC News invited Ven. Chodron to speak on their weekly program, "Faith Friday." The date was changed twice, but it finally happened on the 4th of July. Watch it here.
Ven. Sangye Khadro responds to a reader's question on the Spokane FāVs interfaith news website, which asks, "If you did something wrong before, if you pray to the Buddha will he forgive us?" Read her reply here.
Ven. Sangye Khadro has also been thinking about the view of women in Buddhism. Read or watch her first talk, "Are Women More Emotional than Men?" and link to subsequent videos here.
Ven. Chonyi tells the story of how the Abbey adapted our live Dharma programs into online offerings. Read it in Northwest Dharma News here.
Rachelle LaNae, who participated in the Young Adults Explore Buddhism program, interviewed Ven. Chodron for her podcast "Wreck Your Perfection." For all you perfectionists and high achievers, this is made for you. Tune in here.
Ron Seaman, a prison inmate in the US, sent us this cheerful drawing.
Upcoming Events
Here's what's happening online in the next few weeks:
Plus regular teachings:
See what else is coming up in 2020