Dear Friends,
You've probably read about the record-breaking heat in the Western US, where the Abbey is located. Experts say such extreme temperatures would not be possible here if it weren't for the human influence of climate change.
Here at the Abbey, the grassy meadows that are usually green until the middle or end of August started drying up in mid-July. The shrubs in the forest, which generally turn yellow in late August or early September, were bright orange by mid-July. All the trees, plants, and wildlife are crying out for rain, but little has fallen for a long time.
Under Ven. Tsultrim's guidance, our Operations Team set up a fire evacuation plan and we've had drills. Three short blasts of the horn means grab your knapsack and a kitty and head for the cars to leave immediately. Two long blasts means meet in Chenrezig Hall because there's enough time to put Barricade on some of the buildings and move some holy objects into the storage room before leaving.
Guy & Ruth Gifford also came out to assess our building structures and landscaping for possible ignition points in case of wildfires in the vicinity, especially embers traveling as far as a mile. Guy is the state fire prevention and Firewise coordinator for our region, and Ruth is knowledgeable about fire safety as well. The Abbey's Operations and Grounds teams will implement a number of their recommendations to increase the safety of the Abbey residents and buildings.
See photos of Abbey life in July here.
Bhikshuni Thubten Chodron & the Sravasti Abbey Community
Medicine Buddha Retreat
The weeklong Medicine Buddha retreat was the first one in over a year and a half where we hosted residential guests. We were very happy to see old friends and meet new ones.
This group was especially cooperative—everyone came on time to every sessions and maintained silence, which gave everyone the opportunity to go deeper in their meditation.
Ven. Chodron taught about the Medicine Buddha practice in the mornings, including the explanation of the Medicine Buddha's twelve unshakable resolves. In the afternoon we had discussion groups to explore such topics as "What does healing entail?" and "What unshakable resolves do you want to pledge when you enter the bodhisattva path?"
In a second teaching session in the afternoon, Ven. Chodron taught Nāgārjuna's Letter to a Friend, emphasizing how to put Nāgārjuna's teachings into practice in our daily lives. And of course there were meditation sessions morning and evening and some afternoons as well.
See retreat photos here. Watch meditations and teachings here.
The Buddha Hall
The civil engineer and architect are finishing the changes to the building plans since we moved the construction site a little to the northwest to take advantage of flatter land there. It's taken them a while to figure out the design for the lower parking area so that it meets ADA (Americans with Disabilities Act) requirements.
After the stormwater, septic field, and architectural site designs are updated, we will turn in all revisions to the various agencies that are part of the permitting process before construction can begin.
The Buddha Hall is considered a commercial building, and since Pend Oreille is a rural county where there are not many commercial projects, the permitting process may take longer than usual.
Meanwhile, almost all of the log cabin at the far end of the garden has been removed to make way for Metta Cabin, where Ven. Sangye Khadro will live. It will be built at the same time as the Buddha Hall to save time and money. See photos of taking down the old log cabin here.
British sculptors Peter and Denise Griffin have also been working hard on the first statue for our future main altar in the Buddha Hall. Peter, the main artist, is bringing Venerable Gotami to life in their workshop in France. Meet Venerable Gotami here.
Read more about the future Buddha Hall in the Northwest Dharma News here. There are photos there of the present Meditation Hall and our dining room that now doubles as a meditation hall when we have many guests and when the weather is hot.
June & July Sharing the Dharma Day
June
During the last weekend in June, we were delighted to welcome local guests to our first in-person Sharing the Dharma Day in a year and a half. Many of our friends and supporters—all of whom were vaccinated—enjoyed meditation, a Dharma talk, and group discussions as all of us sheltered from the record-breaking heat in the Inland Pacific Northwest.
Ven. Chodron taught about "Helping Ourselves and Others to Feel Safe," chapter 40 in An Open-Hearted Life. She emphasized learning to reduce our suspicious conceptualizations that make us feel threatened. By changing our thoughts about others and doing even small actions to put others at ease, we create a feeling of safety inside ourselves.
An animated discussion about how to do this followed in the afternoon, as participants at the Abbey and on Zoom shared their reflections on feeling safe and the benefits of creating safety for self and others. Watch the meditation here and the teaching here.
July
Instead of teaching on the next chapter for July's Sharing the Dharma Day, Ven. Chodron spoke again on "Compassion and Empathy" (chapter 33). While empathy is the basis for compassion, we can never really understand another person's experience. However, we can come close if we listen with acceptance, respect, and an open mind.
Sometimes our own memories and/or habitual emotional patterns get triggered when listening to others relate events in their lives. At this time, we've fallen into personal distress—our focus has become ourselves, whereas empathy focuses on others. Empathy doesn't try to solve others' problems or give them advice; it listens with understanding. Because empathy is free of judgments, it can spark compassion wishing others to be free of suffering. Watch the meditation here and the teaching here.
See photos of July's Sharing the Dharma Day here.
Dharma Outreach
Teachings by Ven. Sangye Khadro
Teachings by Other Abbey Monastics
Supporting One Another
Death and Impermanence
Ven. Semkye's sister, Jane, died three years ago. Ven. Semkye hoped to have the family come to the Abbey to scatter Jane's ashes on our forest ridge called Sukhavati or the Land of Great Bliss, the name of Amitabha Buddha's pure land. However, with Covid lockdowns that wasn't possible, so the Abbey community supported her instead. We walked with Ven. Semkye to Sukhavati, where we recited "The King of Prayers" and White Tara's mantra as all of us scattered a handful of ashes.
Refuge
Ven. Chodron offers the refuge and precepts ceremony a few times each year, often at the conclusion of a retreat. In certain situations, if there are people who want to take refuge and precepts but cannot come to the Abbey because of illness or finances for travel, they can join online. There was such a ceremony at the end of the Medicine Buddha retreat. However, our internet stopped working just before the ceremony was to begin. A second ceremony, scheduled later for the online group, ran smoothly.
Gratitude for Online Community
At retreats and courses, we have discussion groups that help people integrate the Dharma teachings they've heard into their lives. The Abbey has a special way of doing these groups that help people open up and develop Dharma friendships.
Jean wrote, "I want to thank the Abbey for continuing online teachings and specifically the Zoom discussion groups. I do not have a local Buddhist group and the Zoom discussions have given me a greater sense of connection to others traveling the same path."
"I tend to feel a sense of trepidation about participating in the discussions and have come to realize that this is the result of my ego, not always being eager to reveal my afflictions. However, these discussions are in fact a very safe place for such revelations and I have gained a lot from having to reflect on the questions and to put those reflections into words. Yesterday's Sharing the Dharma Day discussion was particularly helpful for me and my often inflated ego."
We are also grateful to the Young Buddhist Association Malaysia for offering training for the Abbey video team and friends from FOSA-Singapore in a new live streaming software. This will help our video team prepare for the new system in the Buddha Hall. We rejoice in the international collaboration!
The Forest
Our work in the forest is progressing slowly this summer, due in part to smoky days and not as many volunteers. But a lot was accomplished on July's Offering Service Saturday.
Many dead trees had been taken down last autumn and now we are removing their branches and taking some of them to another area where they can be bucked up and used for firewood this winter.
Everyone had fun doing this, especially riding in the truck as it bumped along forest roads. And working together brings a wonderful feeling of harmony and collaboration. The next Offering Service Saturday is August 28. Fully vaccinated folks can write the office to learn how to join in.
Welcoming Guests
We've enjoyed having more visitors this summer.
Rashika, who has been following teachings closely online, was delighted to be able to return to the Abbey in person. Sal, who participated in Exploring Buddhism for Young Adults in June, made a trip out to see the Abbey for herself and was not disappointed.
Ryder and Naomi, who have been close to the Abbey since before they were married, came for a short visit with their two children, ages 8 and 10. The next day Scott, who has attended Ven. Chodron's retreats before the Abbey began, came with his wife Rachel and two teenage daughters.
Cheri, who paints the beautiful stones that you might have seen at the Abbey, came for lunch and told us that spending time at the Abbey was like being in Sukhavati, Amitabha Buddha's pure land. If you are fully vaccinated and would like to visit, make an appointment via our website.
Online Events by Partners
Living Vinaya film screening and discussion
Filmmaker Harsha Menon documented the "Living Vinaya in the West" course, the first-ever Vinaya training for an international group of nuns held at the Abbey in 2018. She will discuss and screen the film for the Kathmandu University Center for Buddhist Studies at Rangjung Yeshe Institute. Join via Zoom on August 1 at 6 am PT.
Meeting ID: 851 2038 3738
Passcode: 581815
Asian Americans Under Attack: How Would the Buddha Respond?
Sravasti Abbey is co-sponsoring an online panel with 15 Dharma centers to explore Buddhism's unique approach to racial discrimination and violence: not to fight hatred with hatred. Four Asian Americans who practice Tibetan Buddhism will give brief presentations followed by time for questions and comments. Join via Zoom on August 15 at 2:30 pm PT.
Meeting ID: 842 1195 4025
Passcode: 841652
More News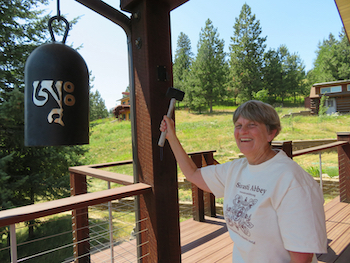 Upcoming Events

Here's what's happening online in the next few weeks:
Plus regular ongoing teachings:
Check the Abbey Events page for much more