Dear Friends,
We miss having all of you visit us, but we're getting along well.
The April rain that fell in June may be giving way to some sunshine now.
The first Mama Turkey has come with her chicks—there are at least a dozen of them! But with them scurrying around, it's hard to count. Somehow she stretches her body to sit on top of them all, although there are usually one or two latecomers who look for corners through which they can slide into Mama's protective care.
The forest is abloom with wild roses and honeysuckle, and the garden with peonies, irises, columbine, and bleeding hearts. The veggie garden has gifted us some lettuce and promises more in the coming months. Go here to see Abbey nature photos—flowers and wildlife, including a brand new baby moose!
We're getting used to giving Dharma talks and having Dharma discussions over Vimeo Livestream and Zoom now, which has required more planning on our part to keep our online spaces safe while easy to access. We're also reorganizing some of our offering service activities because there are no volunteers to help us with forest work and other tasks. But we are all healthy and practicing the Dharma as best we can, and that's what counts.
We're very appreciative of your support and the care packages arriving from all over the country. Please let the office know if you send a gift so we can thank you properly. Goods ordered online are delivered here and we often don't know who has sent them.
See photos of Abbey life here.
Bhikshuni Thubten Chodron & the Sravasti Abbey Community
Young Adults Explore Buddhism on Zoom

Our annual course for young adults had a makeover this year, with everything being offered online. But instead of the usual 9 or 10 participants, about 28 young adults  joined the course from all over the world.
Ven. Chodron gave the Dharma talks, Ven. Khadro led the meditations, and Abbey monastics guided the discussion groups. Dr. Russell Kolts, who co-authored An Open-Hearted Life with Ven. Chodron, gave a talk too, which the young adults always enjoy.
The group this year was especially active from day one. They didn't hold back with their questions, which centered not only on how to have good relationships with others, but also on how to apply wisdom and compassion to current events, especially structural racism and police brutality.
There was much discussion about what it means to separate the person from the action. We can say that an action was harmful, while recognizing that the person who did it has Buddha nature and is trying to be happy, even though they're confused about what the causes of happiness are.
We also discussed how to have a valid sense of self-esteem, how to handle criticism, and how to deal with our judgmental mind that wants to change others so that they do what we want. See photos here.
Sharing the Dharma Day on Livestream and Zoom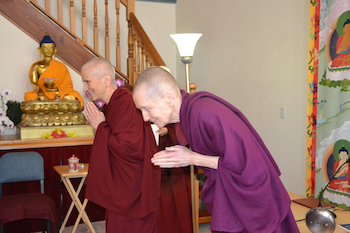 Ven. Sangye Khadro began the day with a meditation on impermanence and death, which helps us to think about the meaning of our lives and set good priorities. Watch the meditation here.
Ven. Chodron then followed this with a Dharma talk on "Self-Compassion and Compassionate Self-Correction," based on Chapter 31 of An Open-Hearted Life. This was an appropriate topic for dealing with the intensity of protests against racism and police violence while living through a pandemic.
Ven. Chodron reminded us that self-compassion doesn't mean we retreat inside ourselves; rather we learn to relinquish unrealistic expectations that set us up to feel like we're not good enough when we can't meet them. Accepting ourselves—our faults as well as our good qualities—opens us to be less judgmental and more compassionate with others. It also eliminates the self-sabotaging harsh inner talk that interferes with developing our great human potential. Watch the talk here.
The afternoon discussion group allowed participants to share honestly about their struggles with negative self-talk, as well as the meditation methods that help to cultivate self-acceptance. Such open sharing is the foundation for having deep Dharma friendships in which we support each other. Through understanding our own minds better, it also becomes easier to understand others' experiences.
Join us for the next online Sharing the Dharma Day on July 12.
Practices for Saka Dawa and the COVID-19 Pandemic
Nyung Ne
Saka Dawa is the holiest day of the year for Buddhists. To celebrate it, six members of the Abbey community came together for a Nyung Ne retreat—a fasting retreat where we meditate on Chenrezig, the Buddha of Compassion. It involves prostrating, visualizing, and reciting the mantra of Chenrezig.
Prior to the retreat, the community received the 1000-Armed Chenrezig empowerment and the bodhisattva vows from His Holiness the Dalai Lama via livestream. This, of course, served as a powerful incentive to do the practice.
The retreatants began with a clear motivation that the merit and virtue generated would be dedicated for the eradication of the COVID-19 virus and the recovery of all beings who suffer from it. We also dedicated for the healing and elimination of all forms of racism, bigotry, and the ensuing violence in the US and in the world.
Pujas for the Pandemic
Beginning July 26, we are offering a monthly online Medicine Buddha puja via Zoom to support the process of healing and grieving during this pandemic. Go here to read about it, sign up, and make your prayer requests.
The Abbey community also joined in the National Day of Mourning and Lament for those who have lost their lives to or are suffering from COVID-19 by doing a Lama Chopa puja specially dedicated for this purpose. Read Ven. Tsepal's Motivation: To Keep Our Hearts Tender.
Wisdom Dharma Chat
Wisdom Publications interviewed Ven. Chodron on their weekly "Wisdom Dharma Chats" series on Zoom, a video version of The Wisdom Podcast. CEO and Publisher Daniel Aitken was the host. He invited Ven. Chodron to share about The Library of Wisdom and Compassion series by His Holiness the Dalai Lama, of which she is the co-author.
With Volume 5 of the series, In Praise of Great Compassion, due for release on August 11, Daniel asked about the new book, which explores methods for cultivating compassion and bodhicitta across different Buddhist traditions.
Ven. Chodron shared enthusiastically about how to meditate on compassion and how the bodhisattva path can inspire us to practice for the benefit of all beings, especially in these difficult times.
The chat recording is available online until July 8. You'll need to sign up for a free Wisdom Experience account to watch the conversation here. After July 8, the chat will be edited and reposted as a Wisdom Podcast.
Online Dharma Outreach
Teachings for the Sandpoint Sangha
Several months ago, the Sandpoint Sangha in Idaho asked Ven. Khadro to teach at their weekly Tuesday night sessions, which have moved online due to COVID-19. The group has been meeting for at least two decades under the guidance of Frank Ostaseski, co-founder of the Zen Hospice Project in San Francisco and founder of the Metta Institute, which trains professionals in dealing with end-of-life issues.
Ven. Khadro is now teaching the group once a month via Zoom, and her guided meditations and talks have been much appreciated. She also joins the group's book club, which is reading her book Awakening a Kind Heart, one Friday afternoon each month via Zoom. You can read the book here.
Teachings for Puerto Ricans
Ganden Shedrub Ling, a Dharma group in Puerto Rico founded by Geshe Lhundup Sopa, contacted the Abbey requesting teachings and help with establishing a group meditation practice. The group already has a strong study and practice program and has remained active even in the face of Hurricanes Irma and Maria, and more recently, the COVID-19 pandemic. Ven. Nyima, a native Spanish speaker, gladly accepted their invitation. Beginning in July, Ven. Nyima will review mind-training teachings with the group and will lead meditations on the same topic—all via Zoom.
Connecting Online with the Spokane Community
Gonzaga University Interfaith Vigil for George Floyd
Ven. Damcho participated in "Sacred Breath: An Interfaith Vigil of Lament and Hope" organized by Gonzaga University via Zoom to commemorate the one-month anniversary of George Floyd's murder.
Participants shared readings and prayers from the Catholic, Christian Orthodox, Muslim, Jewish, and Buddhist traditions, interwoven with 8 minutes and 46 seconds of silence—the time it took for George Floyd to die.
Ven. Damcho read Shantideva's dedication from Engaging in the Bodhisattva's Deeds and was moved by the call to bear witness to and cure the pandemic of racism in America. Watch the vigil here.
SpokaneFāVS "Coffee Talk"
SpokaneFāVS (Faith, Ethics, and Values) hosted a Zoom "Coffee Talk" about the value of human connection, particularly in light of the current social distancing guidelines. Ven. Nyima was one of the panelists, along with a psychology professor, an Eastern Orthodox practitioner, and an Episcopalian priest.
Tracy Simmons—journalist, founder of SpokaneFāVS, and now a long-time Abbey friend—moderated the informal talk about how human connection can help us to heal and thrive during challenging times. You can watch the discussion here.
Ven. Nyima also wrote an article, "The Human Connection," about how kindness to self and others is the fundamental ingredient of human connection. Read it here.
Spokane Friends Church Sunday Service
Spokane Friends Church invited Sravasti Abbey to participate in an online Sunday service, which Ven. Samten attended on May 31. The Quaker group is focusing this year on "Peace with Our Neighbors," which involves their community in learning more about different faith traditions.
Ven. Samten gave a brief presentation on the Buddhist worldview, followed by questions and discussion. Their time of connection over Zoom was filled with warmth, acceptance, appreciation, and mutual interest in fostering a continuing connection.
Unitarian Universalist Church of Spokane Soul Weaver Meeting
A group called the Soul Weavers from the Unitarian Universalist Church of Spokane invited Ven. Jigme to speak in one of their weekly Zoom meetings about RAIN (Recognize, Accept, Investigate, Non-identification)—an acronym for the practice of mindfulness—and how to apply it to put out the fire of anger.
About 35 people listened as Ven. Jigme unpacked how to apply mindfulness to recognize and accept our mental experiences as temporary events without judging or holding onto them. This gives us the space to begin to work with our thoughts and emotions.
Abbey nuns also continue to offer the weekly meditation class for the Spokane UU group. Vens. Jigme and Tsepal are leading the class now as they look at chapters in Taming the Mind by Ven. Thubten Chodron. Here is more info.
Buddha Hall Update
We continue to work on fine-tuning the architectural plans for the Buddha Hall. We've added the final main altar design and started to plan the altars for the Tara Room and the Posadha Room—places where we will have guided meditations and monastic rituals.
Lots of decisions still remain to be made, from the designs of acoustic panels to lighting fixtures, and more!
The need for a Buddha Hall is clear. Even now, when we have no guests, our monastic community is outgrowing our various teaching and ritual spaces. However, with the many issues stemming from the pandemic, we don't know when we will be able to break ground.
Please help us to hold the vision for the Buddha Hall by continuing your daily practices and reciting Shakyamuni Buddha's mantra. Let's dedicate the merit to bring about peace in our chaotic world—on all levels—as well as for building our Buddha Hall.
People around the world have already recited the mantra 3.5 million times. Now we're going for 5 million. You can stay updated about the Buddha Hall and report your mantra count here.
Right Speech and Social Media
After careful consideration, the Abbey has decided to disable comments on our YouTube channel. While we have occasionally seen malicious speech in response to past talks, we kept the comments feature in place to allow fruitful discussion.
Recently, however, harsh speech in the comments section has escalated, and we don't want to support conditions for creating negative karma. Listen to Ven. Chodron's Bodhisattva's Breakfast Corner talk about the right to free speech and the Buddha's guidelines for right speech here.
For everyone who posts comments on social media platforms, we offer this advice from the Buddha:
"When you reflect, if you know: 'This verbal action that I wish to do would lead to my own affliction, or to the affliction of others, or to the affliction of both; it is an unwholesome verbal action with painful consequences, with painful results,' then you definitely should not do such a verbal action."
"But when you reflect, if you know: 'This verbal action that I wish to do would not lead to my own affliction, or to the affliction of others, or to the affliction of both; it is a wholesome verbal action with pleasant consequences, with pleasant results,' then you may do such a verbal action."
Ambalaṭṭhikā­rāhulovāda Sutta (MN 61)
More News
Ven. Chodron will be interviewed on "Faith Friday," part of ABC News' midday show, Pandemic: What You Need to Know, anchored by Amy Robach. The program will air nationwide on Friday, July 3 at 12 pm in each time zone.

Ven. Chodron contributed to Hsi Lai Temple's project, "Be the Light," where people spoke about how to practice the Dharma and keep a positive attitude in difficult or challenging times. Watch her inspiring talk, reminding us that now is the time to practice. You can watch the other "Be the Light" speakers here.

Abbey monastics are actively sharing Buddhist perspectives on current events. Read Ven. Jampa's reflections on the importance of speaking up about social and political issues here, and read Ven. Kunga's well-researched essay on "Racism as a Public Health Crisis" here.
Read Bryan Stevenson's interview with The New Yorker here on the frustration behind the George Floyd protests and the importance of transforming policing. We highly recommend Stevenson's book, Just Mercy: A Story of Justice and Redemption, which has also been made into a film. Learn more about it here.
Read Ven. Khadro's article in response to the question, "Does karma imply predestination?" here.
Kenryuu, who lives in Singapore, shares about his "trip to the operating theater and back." Read his account of how he practiced when he had surgery here.
Upcoming Events
Here's what's happening online in the next few weeks
Plus weekly teachings
See what else is coming up in 2020