In this Moment
As we finish up this month's enews, we mourn George Floyd's death in Minneapolis and the horrible conditions going back hundreds of years that brought it about. We pray for his good rebirth and for his grieving family and community.
We also dedicate merit to bring an end to racial violence, for immediate peace in our country, and for compassion, clarity and wisdom to guide our leaders and all citizens.
But prayers are not enough; thoughtful, wise action is needed. We must look inside and change ourselves by doing our best to live nonviolently, to share resources, to respect others, and to act in ways that show we care about all beings on this planet.
We must work together to increase the role of ethical values in our social discourse and to create or reform social institutions so that they reflect the values of respect, equality, kindness, and wisdom.
Ven. Chodron has spoken about Floyd's death and the protests. Listen to the talks on May 31 and June 1.
On June 1, we also did Lama Chopa puja to honor the lives of those who have died from COVID-19. Before the puja, Ven. Tsepal led us through a motivation highlighting the immense loss of lives, the pain of those left without a chance to say goodbye, and the terrible inequalities laid bare by the pandemic.
She echoed Ven. Chodron's recent teachings when she urged us to "use everything we witness externally and experience internally around the pandemic—including our feelings of grief—as a profound personal lamrim teaching, as support for our bodhicitta aspiration and development of wisdom." She said, "I know for me that requires consciously slowing down and asking myself again and again, How do I keep my heart tender, open and soft to what's in front of me?" Read the full motivation here.
Now to the June eNews as written before the end of May.
Dear Friends,
We're delighted that offering teachings on Vimeo Livestream and discussion groups on Zoom is working out well. People worldwide are joining in our online events.
Many have asked us to hold our monthly Sharing the Dharma Days like this even after we come out of lockdown because they find the discussion groups so helpful and interesting. They're a great way to make new Dharma friends, share practice experiences, and learn tips from each other about how to work with common challenges in our practice.
We've put even more Dharma talks, meditations, and discussion groups online during the pandemic and have received excellent feedback about our programs. It seems people are longing for Dharma connections with teachers and other students. We all benefit from the opportunity to express our understanding of the teachings and learn from others in class, whether in person, or now, online.
See photos of Abbey life in May here and here. Enjoy photos of Spring at the Abbey here.
Bhikshuni Thubten Chodron & the Sravasti Abbey Community
Memorial Day Weekend Retreat on Livestream

Ven. Chodron began to teach the book How to See Yourself as You Really Are by His Holiness the Dalai Lama during a Memorial Day weekend retreat in 2012. She has proceeded to explain it chapter by chapter during all the subsequent Memorial Day weekend retreats. This year, she finally finished the text!
This year's talks centered on Candrakīrti's three types of compassion, which progressively deepen our experience of love and compassion for sentient beings and our understanding of impermanence and emptiness.
This retreat was conducted online, complete with early morning meditation sessions and discussion groups. All the teachings and meditation sessions are archived on Vimeo Livestream here. Edited editions of the teachings will also be posted on our YouTube channel and ThubtenChodron.org soon.
There was a lot of laughter during the retreat as we recognized our ways of thinking and acting motivated by unrealistic expectations and unclear thinking. Acknowledging areas that need improvement while not taking ourselves too seriously is healthy. Humor can give us the mental and spiritual space to counteract afflictions and boost our good qualities.
Emptiness and the Mind Perceiving It with Dr. Jay Garfield on Zoom
The Abbey took a pre-scheduled program with Dr. Jay Garfield on "Emptiness and the Mind Perceiving It" online. The course ran for nine days, with about 70 people tuning in on Zoom and another 40 on YouTube.
With enthusiasm, Jay led us in reading texts from the Yogacara or Mind-Only School of Buddhist philosophy, namely the Sutra Unravelling the Thought, Vasubandhu's Treatise on the Three Natures, and Dignaga's Investigation of the Percept.
We appreciated the opportunity to delve into these texts, especially because Ven. Sangye Khadro kindly gave the community "preview" classes in anticipation of Jay's course. We were grateful to Jay for teaching two, two-hour sessions a day and fielding a barrage of questions—all amidst his administrative meetings for Smith College where he is chair of the Philosophy Department. The online audience asked thoughtful questions as everyone endeavored to understand this profound philosophical material. See photos here.
Sharing the Dharma Day on Livestream
May's Sharing the Dharma Day featured a guided meditation on impermanence by Ven. Sangye Khadro, a Dharma talk on the taking and giving meditation (tonglen) by Ven. Chodron, and a group discussion led by Ven. Jampa.
Learning how to do the taking and giving meditation was more than suitable for our present situation: it helps us to remain involved with the world and everyone in it and at the same time increase our love and compassion and reduce our self-centeredness.
Do the guided meditation here, and listen to the Dharma talk here. Then practice on your cushion at home!
His Holiness the Dalai Lama's Teachings
We were delighted to watch His Holiness the Dalai Lama's two short teachings in mid-May, and even more delighted to participate in the Thousand-Arm Chenrezig empowerment he gave a few days ago via livestream.
For those of you who also took the Chenrezig empowerment, Ven. Chodron's website has many resources to help you learn the practice. The front-generation sadhana with a guided audio meditation is here, and many teachings are here.
Ven. Chodron's book Cultivating a Compassionate Heart: The Yoga Method of Chenrezig also gives a thorough explanation of the practice.
Grieving Together

We know that many people are saddened that they are unable to be with loved ones dying from the COVID-19 virus, and distressed by the lack of proper funerals and memorial services during this time, when social distancing is crucial for everyone's health.
We participated in a Zoom memorial service for a dear Dharma friend from Missoula and organized a Medicine Buddha puja with Dharma friends in Russia and Singapore, dedicating the merit for two young Russians who died recently and a Singaporean friend who is ill. All of these were uplifting for everyone who participated.
So, as a community we decided to join with national faith communities to remember and honor more than 363,000 people around the world known to have died from COVID-19, including over 100,000 in the US. The National Council of Churches, Sojourners, numerous faith organizations, and Washington's Faith Action Network called for a National Day of Mourning on Monday, June 1.
The Abbey did a Guru Puja, special prayers, and dedicate merit for people who have died from or are now fighting COVID-19.
Online Dharma Outreach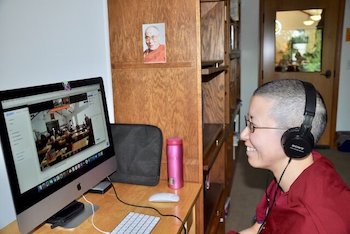 E-Vesak Celebrations
Our Dharma friends in Singapore celebrated Vesak Day on May 7 according to the Chinese Lunar calendar. With the country in a lockdown during this time of pandemic, Buddhist groups found creative ways to take their festivities online. The Singapore Buddhist Mission and Buddhist Youth Network co-organized an e-Vesak Concert and invited Ven. Chodron and Ven. Damcho to record short video messages that were broadcast between performances. Watch the full concert here.
Also in Singapore, Buddhist preschool My Little Gems invited Ven. Damcho to attend their online celebration and give a two-minute talk on how to practice love alongside a Muslim imam, Hindu swami, and Catholic nun. Abbey cat Mudita made an international debut in the talk as well! After the interfaith sharing, the school's principal and two preschool alumni (now in elementary school) told the Buddha's life story through dialogues and songs. It was a delight watching the tots and their parents sing and dance to Buddhist hymns, getting lots of good imprints at a tender age.
Interfaith Webinars
Ven. Semkye was invited to join a webinar panel hosted by Gonzaga University as part of a three-part series called "Communication and Leadership in Turbulent Times." The webinar explored mindfulness from interfaith perspectives and in terms of practical application. Ven. Semkye focused her talk on the power of meditating on the Four Immeasurables to provide a larger perspective on our interconnectedness and a powerful tool against hatred, cruelty, apathy, and partiality toward others.
Ven. Chodron was asked to participate in a webinar organized by Team Enough, a national youth-led lobbying group for gun reform that works to educate and mobilize young people in the effort to end gun violence in the U.S. She was on a panel with Pastor Mike McBride, an African-American pentecostal pastor who lives in Berkley, CA.
The organizers commented on how well the two of them dialogued about their common concerns. They shared thoughts on such topics as the relationship of religion to gun violence—in terms of how religion has historically promoted and inhibited violent conflict, what our respective scriptures say about violence and killing, how racism in America is linked with gun violence, and the historical role of guns and their symbolism in America. We hope to post the webinar video soon.
The Buddha Hall
Several people have written us, concerned about our progress with building the Buddha Hall in the days of the coronavirus lockdown. The planning continues!
We had a Zoom meeting with the architect, contractor, electrical engineer, and structural engineer recently, and more meetings with lighting designers, acousticians, and the civil engineer are lined up as well.
Many decisions need to be made, from the statues on the altars, to outlets for AV equipment, to the layout of the library, to the roof decorations. We are researching these areas and getting advice from experts. Although it will take some time to weigh the options to make these choices, doing so will enable the contractor to give us a more accurate cost estimate for construction.
Donations are slowly accumulating. Knowing that many people are suffering during the pandemic, we aren't emphasizing inviting generosity at this time.
We're gladdened by the total of Buddha mantras that our supporters are reciting—over 3 million! The total so far is way beyond our initial hopes. We have increased the goal to 5 million recitations and invite everyone to join in. Go here for more information.
Teachings on Shantideva's Engaging in the Bodhisattva's Deeds
Ven. Chodron began teaching Shantideva's Engaging in the Bodhisattva's Deeds on Vimeo Livestream on Thursday mornings. This wonderful text is one of the Dalai Lama's favorites. Explaining the path to awakening from beginning to end, it emphasizes generating the altruistic intention of bodhicitta and the wisdom realizing emptiness.
Previously, we had livestreamed a class on Thursday evening, but having found that our minds are brighter in the morning, we've shifted the time of this new class. Coincidentally, the new time makes it easier for people in Europe, Russia, and Israel to watch it live in the evenings in their time zones. Watch the livestream here. Edited archived teachings are posted here.
More News
Ven. Chodron will be interviewed on "Faith Friday," part of ABC News' midday show, Pandemic: What You Need to Know, anchored by Amy Robach. The program will air nationwide on June 19 at 12 pm in each time zone. In Seattle it will run on KOMO News.
Watch Khensur Geshe Wangdak Rinpoche's suggestions for weathering the pandemic here. Khensur Wangdak, now the teacher at Chenrezig Tibetan Buddhist Center in Middletown, Connecticut, was the abbot of Namgyal Monastery in Dharamsala, is one of Ven. Chodron's teachers, and has taught at the Abbey several times.
Venerable Master Wu Yin, abbess of Luminary Temple in Taiwan and a member of the Abbey's board of advisors, gave advice for generating friendliness and goodwill during the pandemic. Watch it here.
Ven. Chonyi wrote "A Buddhist Responds to the Pandemic" for the Spokane Faith and Values website. Read it here.
In a recent newsletter of the Central Tibetan Administration located in Dharamsala, there was a report about Ven. Tenzin Choedon, aged 82, who passed away in Rewalsar, India, and was found to be in thukdam—meditation on the empty nature of the mind that is done by realized practitioners after their breath and heart stop. Read the article here.
Ken has been looking at distorted ways of thinking that generate afflictions, reinforce our bad habits, and prevent the cultivation of good qualities. Read his short piece about "Stinkin' thinkin'" here.
Al, who is incarcerated in North Carolina, wrote a poem about love, which sustains him while he's in prison. Read it here.
One of the Geshemas at Dolma Ling, a nunnery in the valley below Dharamsala, sent us this video of what the nuns are doing during this time of lockdown.
Upcoming Events
Here's what's happening online in the next few weeks:
See what else is coming up in 2020