Dear Friends,

Not only are the tulips, irises, and peonies opening in the Abbey garden, the Abbey itself is also beginning to slowly open after Covid, with people who have been fully vaccinated (plus two weeks so they have full immunity) allowed to visit us.
After nearly a year and a half without guests (this includes two winter retreats when we normally don't have guests), we've been delighted to welcome our friends and supporters in small numbers.
See photos of Abbey activities in May, including beautiful wildflowers on the Abbey grounds.
Bhikshuni Thubten Chodron & the Sravasti Abbey Community
Sravasti Abbey is Gradually Reopening
Following CDC guidelines, the Abbey is now gradually opening our doors to guests again! Only people who have been fully vaccinated may come. This will begin with Sharing the Dharma Day on June 27. Venerable Fauci (aka Ven. Jigme who is a nurse practitioner) recommended we begin with 20 guests.
The event will still be broadcast on Vimeo Livestream with a discussion group on Zoom.
If you missed the May 16 Sharing the Dharma Day, you can watch the guided meditation by Ven. Sangye Khadro on "Responding with Compassion" here. Ven. Chodron's teaching on "Finding the Best in Other People" is here, which is based on Chapter 39 of An Open-Hearted Life.
Some fully vaccinated guests can also attend the Medicine Buddha retreat from July 3–9. If you'd like to attend either of these events in person, please register on the specific event page—Sharing the Dharma Day here and Medicine Buddha Retreat here—and send us a copy of your vaccination card to the office.
Welcome back to your Dharma home!
Peaceful Living, Peaceful Dying Retreat

From May 1–2, Ven. Sangye Khadro followed up on last year's retreat with the same name, "Peaceful Living, Peaceful Dying." This year she focused on overcoming fear of death and grief over losing loved ones, as well as practices to maintain mindfulness of death and impermanence.
Ven. Sangye Khadro shared sutras containing the Buddha's advice on death and explained various methods for dealing with anxiety. She also talked about rebirth and how to live and die meaningfully. Abbey monastics led the nine-point death meditation between teaching sessions.
In the discussion groups, people shared near-death experiences and how attachment played a role in response to a loved one's death. We heard much gratitude for the course given its relevance to the Covid-19 pandemic. Watch the teachings and meditations here.
Courageous Compassion

Wisdom Publications released Volume Six of the Library of Wisdom and Compassion by His Holiness the Dalai Lama and Ven. Chodron on May 4.
Courageous Compassion explains the ten paramitas (perfections) found in the Sanskrit and in the Pāli traditions, and then goes into how each tradition presents the paths and grounds leading to arhatship and full awakening. Learn more about the book here.
Watch Ven. Chodron introduce the book here and read some of her favorite parts here. Read an excerpt from the book on "Voluntarily Accepting Suffering" here. You can also join Ven. Chodron for an online book launch on June 16 at 7 pm Pacific Time, hosted by East West Bookshop in Seattle. Learn more here.
The Buddha Hall
Kevin Koesel, our project engineer, came with a team to stake the actual perimeter of the Buddha Hall. Then John Young, our contractor, visited the building site.
After looking at the placement of the building on the hillside together, all of us enthusiastically favored John's idea to move the site up the hill a little. Doing so will make use of flatter land there and decrease the amount of dirt that will be excavated. John will now speak with Kevin and Tim Wilson, our architect, to include these changes in the building plan.
Because the Buddha Hall is such a large building in a rural county, the permitting process is lengthy. In addition to applying for and receiving a building permit, we must also pass special reviews and engineering inspections, an NREC energy code review and inspection, inspection by the state fire marshal, a SEPA examination of environmental impact, obtain a septic permit, and have a fire department site plan.
People have responded enthusiastically to the $250,000 Jumpstart Challenge for building the Buddha Hall. So far about $190,000 has been contributed, so we're on the way. The deadline is July 14. Learn more about how you can support the building of the Buddha Hall here.
Seeing a post about the Abbey's new Buddha Hall project on Instagram, someone wondered why we need it. "Why do you need to spend so much on a place to meditate? Buddhists should be happy with any reasonable place to use as a Buddha Hall." Read Ven. Chonyi's reply here.
May We Gather
"May We Gather" was a Buddhist memorial for Asian-Americans who have been killed due to racist violence. Organized by Rev. Duncan Ryuken Williams, Dr. Funie Hsu, and Chenxing Han, it was a 90-minute program that included Dharma talks on the six perfections, chanting, and the gilding of a broken ceramic lotus to symbolize how, with resilience, shards can be reconstituted to form a whole again. See the program details here.
Representatives from a wide variety of Buddhist traditions and temples, mostly in Southern California, participated. The event was livestreamed so that national and international audiences could join in the touching and healing memorial. Watch an edited recording of the ceremony here.
The Abbey community was delighted to be one of the Ally organizations supporting "May We Gather." Read about it in the New York times here, and in the LA Times here.
International Outreach
Southeast Asia
Russia and Spain
National Outreach
Lion's Roar Magazine
Ven. Chodron's article, "Oh Tara, Protect Us," on Tara, a female manifestation of full awakening, was published in Lion's Roar Magazine. Read it here.
Lion's Roar Podcast also featured Ven. Chodron's talk on "The Four Rules of the Universe," where she encourages us to watch how our self-centered mind influences how we interpret and experience events. Listen to it here.
Ven. Sangye Khadro was active teaching:
Student Interview
A student from Utah Valley University interviewed Ven. Nyima for a paper on communication styles used by different cultures. The student was curious how Buddhist monastics conduct teachings and outreach to Dharma students and the general public. Ven. Nyima enjoyed the engaging exchange.
Vesak Day

On the eve of Vesak Day here in the US, the Abbey community offered an online celebration to commemorate the Buddha's birth, awakening, and passing into parinirvana. Ven. Tsepal led a meditation on the Buddha, after which Ven. Chonyi spoke on the importance of relying on a spiritual mentor, who guides us on the path to awakening just as the Buddha would. The video will be on the YouTube channel soon.
At the same time, Ven. Sangye Khadro led a meditation on the Buddha for the Sandpoint Sangha in Idaho.
Ven. Damcho addressed two Vesak events in Singapore. First she gave a short talk to parents on how to teach kindness and gratitude to their children as part of an online celebration organized by My Little Gems, a Buddhist preschool. She also briefly attended the Singapore Buddhist Mission's E-Vesak Metta Concert. Ven. Chodron had pre-recorded a video message encouraging the group to make merit, purify their minds, and generate bodhicitta on Vesak Day. Ven. Damcho then offered a short greeting to the 500+ participants about following the Buddha's example of transforming adversity into joy and courage. Watch their messages here.
Offering Service Saturday
How fun it was to welcome six friends and volunteers on our first (deliberately small) Offering Service Saturday of the year! Our work centered on the recently felled trees on Paramita Path, with Jon and his son Hank using their chainsaw skills to cut some of the big trunks, while Patricia, Whitney, Tracy, and nuns worked with loppers and ran the chipper to clear the slash.
In the upcoming weeks, nuns and volunteers will use the new log splitter to make firewood for the next couple of winters. It's a lot of fun when people "swarm" a project together to accomplish a big task. And we appreciate our volunteers so much because the outdoor work is more than our group of nuns and one monk can handle.
Meanwhile, Ven. Losang is making good progress in constructing a woodshed near the barn where the firewood will be stored.
More News
Upcoming Events
Here's what's happening online in the next few weeks: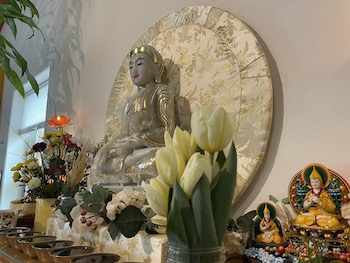 Plus regular ongoing teachings:
Check the Abbey Events page for much more