Dear Friends,
After having beautiful spring weather in February and most of March, April began with snow. It was lovely to stand outdoors with the sun shining while the snow fell. But that didn't last too long, and spring finally arrived.
The chickadees were the first to arrive, followed by the blue jays and robber jays, robins, blue birds, and most recently, the swallows. Snowbells have given way to crocuses and daffodils.
Our regular Dharma classes for Abbey residents continue—Vinaya, The Foundation of Buddhist Practice, and Madhyamaka with Jeffrey Hopkins. In addition, Ven. Sangye Khadro does preview sessions on Yogācāra philosophy, and visiting monk Ven. Donyo has conducted some debate classes. This is in addition to all our online programs mentioned below and short, almost-daily Bodhisattva's Breakfast Corner talks.
We hope you, your families, and your Dharma friends and communities are well and that you're using the time of "sheltering-in-place" to read Dharma books you've been wanting to read, watch Dharma talks, meditate, and recite mantra, prayers, and Dharma texts. May you be free of danger, fear, and anxiety, and have the courageous, open heart of a bodhisattva.
See photos of Abbey life here and here.
Bhikshuni Thubten Chodron & the Sravasti Abbey Community
COVID-19
All of us at the Abbey are committed to doing what we can to ease the suffering of others during the pandemic. Many of our daily Bodhisattva's Breakfast Corner talks center on how to work with our mind in order to steer it in a positive direction, away from fear and anxiety and toward compassion and generosity. Watch them here.
We've received so many letters of appreciation from you for doing these talks and are glad they are useful. We're practicing the Dharma advice in them too! See all our COVID-19 practice resources here.
On a practical note, we've joined together with several other Buddhist groups to sponsor a new endeavor entitled Dharma Relief. Backed by Dharma Drum Mountain in Taiwan, Dharma Relief has been able to send over a million FDA-approved masks to hospitals around the US and Canada. We rejoice at the generosity of over 2,000 donors who have contributed to this effort. Learn more about Dharma Relief here.
And we rejoice and are grateful to the true heroes, the healthcare workers who risk their lives to save ours. We just read in our local newspaper that two physician assistants from Newport, WA have gone to help out in a hospital in New York. It's wonderful to see the kindness, compassion, and camaraderie that occurs when we work together to benefit all.
Ven. Yeshe and Dekyi made over 100 masks that were donated to our local hospital. The thank-you note from the hospital said they were "perfect!" Read about it here and watch this short video about the mask-making effort.
Meditating on the kindness of others is a regular part of our Dharma practice. Someone sent us the video of Alicia Keys singing "Good Job," expressing her gratitude for all those risking their lives to save our lives—watch it here.
The Monastic Practices of Varsa, Pravarana, and Kathina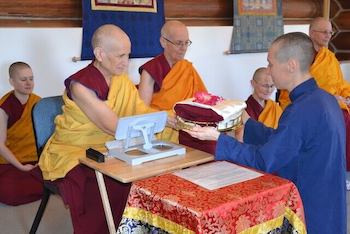 The three-month "snows retreat" or varsa that the monastic community at the Abbey does each year—not to be confused with our annual winter meditation retreat—was concluded on the full moon of April when we did the "invitation (for feedback)" pravarana ceremony.
These practices date back to the time of the Buddha, and together with our fortnightly confession and restoration of precepts (posadha), they constitute the three main monastic practices prescribed by the Buddha.
It is said that when a sangha of four or more fully ordained nuns or monks does these practices, it makes that land a "central land,'' a place where the Buddhadharma flourishes. For those of us who come together as a monastic community, these practices and ceremonies are meaningful and connect us with the thousands of generations of Buddhist monastics that have come before us and preserved the Dharma that we enjoy today.
Sometime in the month following the pravarana, the "robe of merit" or kathina is given. This is a time when the lay followers offer a new robe to the sangha, as well as clothing, food, and other resources. In Asia it is a grand time; a Theravada nun told us that there are processions of lay followers headed by an elephant that go to the monastery to create merit by making offerings.
In previous years, the Abbey's procession was headed by the painting of a moose (cultural adaptation on our part). This year, since all of us are sheltering-in-place, the procession was abandoned, and Dekyi, the only lay follower at the Abbey (as an anagarika, she holds eight precepts) offered the robe of merit. She told us afterwards how moved she was to be able to do this.
We had initially planned to livestream the opening of the kathina ceremony, but realized we lack the equipment and technical skills to do so. So next year, please come and join us live! See photos here.
Sharing the Dharma Day on Livestream

On April 12, we had our second Sharing the Dharma Day of the year. Like the first one, it was streamed live. Watch the full, archived event here, or see it in sections—the edited meditation here, and the edited talk here.
Ven. Sangye Khadro led a meditation and Ven. Chodron continued teaching from An Open-Hearted Life. The chapter she spoke on, "My Rules of the Universe," was one that all of us could relate to—all those pesky expectations and assumptions centered around "How the World Should Be According to Me," that interfere with our peace of mind and harmonious relationships.
Ven. Samten led the afternoon discussion over Zoom with participants from all around the world. Over 400 people joined us live and many more watched the archived videos. We received so many emails expressing appreciation, not only for the meditation and Dharma talk, but also for the opportunity to discuss the Dharma with fellow practitioners. We rejoice that we are able to offer this to all of you.
Join us on May 3 for our next Sharing the Dharma Day on Vimeo Livestream here starting at 10 am Pacific Time. See the Sravasti Abbey website for details.
Peaceful Living, Peaceful Dying Retreat on Livestream
Ven. Sangye Khadro led a three-day retreat on the timely topic of "Peaceful Living, Peaceful Dying." Abbey residents participated fully in the retreat and held silence through the weekend.
For the first time, we had a fully livestreamed retreat and adapted our schedule to support participants from all over the world to join us online for teachings and guided meditations. Watch the edited teachings and meditations here.
Over 450 people tuned in, and many shared that they were able to create a retreat environment at home for themselves to deepen their exploration of the teachings.
The retreat also included online discussion groups so that people could connect with like-minded Dharma practitioners and discuss the Buddha's teachings on how to approach death. About 50 people joined these, breaking up into smaller discussion groups and then coming together as a whole to debrief at the end. See photos here.
Join us for our next livestreamed retreat over Memorial Day Weekend. Details are here.
The Buddha Hall

The Abbey's building committee—Vens. Chodron, Tarpa, Samten, and Damcho—met with Tim, our architect, and John, our contractor, via Zoom in early April. We were surprised how easy it was to discuss our plans despite not being in the same room together.
On this call we discussed the general plan going ahead. Tim has been working with Mark, the structural engineer, on designing the trusses. Meanwhile, Kevin, the civil engineer, has been designing the septic system, and Ven. Tarpa has been conferring with the health department about this.
Next, Tim and John will meet with Dave, the electrical engineer, and incorporate the suggestions of Scott and Rob, the acousticians, which will enable Tim to continue making the construction documents. This is a real dependent-arising with so many people contributing their various skills.
The Abbey's Buddha Hall committee has also started thinking about lighting, with the help of lighting designers in Singapore who have volunteered their ideas and support.
And the folks reciting Shakyamuni Buddha's mantra to generate merit for the project have logged 2.9 million recitations—just 100k short of our goal. No doubt we'll reach 3 million by Vesak Day on May 7! With all the merit needed in the world, why not keep going?
Keep track of news about the Buddha Hall here.
Online Dharma Outreach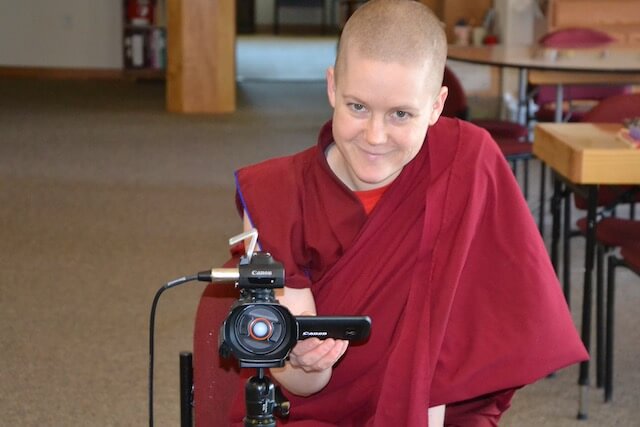 We've had plenty of Dharma outreach this month, all via the Internet.
Parting from the Four Attachments
In place of her teaching tour in Europe that was cancelled due to the coronavirus, Ven. Chodron gave a series of nine Dharma talks on the mind-training text, "Parting from the Four Attachments." The class was held in the morning at the Abbey so that people in Europe, Russia, and Israel could watch it live in the evening in their countries. About 250 people tuned in live. The livestreamed teachings are archived here, and you can watch the edited teachings here.
Talks on Compassion in Action
Ven. Chodron was invited to speak in a Yale University class on "Buddhism and Atheism." After a brief introductory talk, she responded to questions from students who had read An Open-Hearted Life. Their thoughtful questions focused on the meaning of compassion, and how compassion is practiced in society not only in our personal lives, but in dealing with inequality in society.
Ven. Chodron was also invited to speak about the COVID-19 pandemic and its effects on an online panel with other Buddhist teachers. It was organized by Raimund from Mitgefühl in Aktion (Compassion in Action), a German humanitarian aid organization that is a partner of Buddhist Global Relief USA under the patronage of Ven. Bhikkhu Bodhi.
The discussion covered many additional topics, including how to bring Buddhism to the West in a way that both preserves the teachings and adapts to Western culture, the role of women and nuns, and the extent to which monastics should speak about social issues. All the panelists expressed interest in finding a way for Buddhists of all traditions to speak as one voice regarding social issues that for us are moral, not political, issues. See the event here. Watch the panel discussion here.
Earth Day Vigil
On April 22, Ven. Jampa represented the Abbey community at an online vigil in celebration of the 50th anniversary of Earth Day. Faith leaders and leaders of conscience in Spokane organized the vigil to thank those active in healing and protecting the earth, and to encourage all of us to nurture and care for the earth and each other. The group shared prayers and meditations to keep everyone united and strong. All agreed that we have to start healing from within and then take courageous steps without hatred or conflict so that all sentient beings can enjoy the glorious resources of happiness and peace. See the event here, and read His Holiness the Dalai Lama's Earth Day message here.
More Dharma via Zoom
Abbey nuns have resumed the weekly meditation class at Unitarian Universalist Church of Spokane—except they're not meeting at the church. Vens. Semkye and Chonyi are using Zoom to share meditation, teaching, and discussion in a format similar to the live class. Everyone is delighted to "see" each other again after the long separation of winter retreat and statewide shutdown.
Also using Zoom, Ven. Chonyi gave a Dharma talk for Eastside Insight Meditation's weekly group. In normal times, they meet in Kirkland, WA. Her talk focused on recognizing the kindness we witness and experience every day. By bringing awareness to kindness, gratitude easily arises, which in turn fuels our metta practice, the meditations to develop loving kindness.
Dharma in Translation
Dharma students worldwide will be glad to know that ThubtenChodron.org has articles published in 11 other languages: German, Spanish, Chinese, Korean, Vietnamese, Bahasa Indonesia, Russian, Italian, Tibetan, French, and Portuguese.
To access articles in another language, simply click on the foreign language tag at the top of the website banner.
Thanks to kind volunteers who have come forward over the years to offer their translation skills, and our volunteer web team that posts the translations online, we're able to offer these translations to the world freely.
Most recently, Ricardo Sousa, who runs Olhar Budista, a Portugese Buddhist website, translated Ven. Chodron's guided meditation on "Coronavirus: This is the Time to Practice" into Portuguese. Read his translation here.
Many of Ven. Chodron's books are also available in translation. Learn more about them here.
More News
Ven. Lobsang Donyo, an American monk studying at Sera Monastery in India who is now staying at the Abbey, finished a Chenrezig retreat. At the conclusion, he offered an elaborate fire puja, just like three of the nuns did last month to conclude their deity retreats.
The Canadian Broadcasting Company published an article about meditation teachers whose talks could help people maintain a calm mind in these changing times. They included Ven. Chodron. Check it out here.
Ven. Chodron was mentioned in an article about Jew-Bus along with many other American Buddhist teachers that grew up Jewish. Read it here.
The Spokane Faith and Values (SpokaneFāVS) interfaith news website runs a column called "Ask a Buddhist" that Abbey monastics contribute to. Read Ven. Sangye Khadro's reply to the question "Do Buddhist monastics beg?" and Ven. Semkye's reply to the issue of balancing meditation with actively helping others.

In addition, SpokaneFāVS editor Tracy Simmons interviewed Ven. Chonyi about the Abbey's experience of taking Dharma programs online. Listen to "Digital Monastics" on the FāVsForward podcast.

Read Eric Stone's "Breath We Never Knew," a song of the tragedies and treasures arising from the coronavirus.
Our friends at the Singapore Buddhist Mission are hosting an online Vesak Day celebration on May 7 from 9 am to 6 pm Singapore Time. Register to attend the events here.
Upcoming Events
Here's what's happening online in the next few weeks:
See what else is coming up in 2020