Dear Friends,
Sunny autumn days graced early October at the Abbey and throughout the month, leaves fell. Then suddenly on October 23, a winter snowstorm arrived, leaving several inches of powdery snow everywhere and temperatures in the teens and even lower.
The storm also knocked out the electricity for an hour or two. We quickly got out the snow shovels and put cleats on our shoes, and a week later the snow was gone (at least for a short while).
Aside from that, we've had an exciting October, filled with Dharma goodness.
See October photos of Abbey life here.
Bhikshuni Thubten Chodron & the Sravasti Abbey Community
Geshe Thabkhe Teaches Pramanavarttika
Geshe Yeshe Thabkhe—a senior geshe from Drepung Loseling Monastery in South India and a professor emeritus from the Central University for Tibetan Studies in Sarnath, India—has been kindly teaching Abbey residents and guests for seven years.
Due to Covid, this year's teachings on Dharmakirti's Pramanavarttika were Zoom-ed to the Abbey and our guests' homes. With great translation by Katrina Brooks, we enjoyed studying the sixteen aspect of the Four Truths of the Aryas for eight days.
Ven. Sangye Khadro supported our study this year by giving review sessions before and during Geshela's teachings. Watch the teachings here.
This was our third year working through chapter 2 of this remarkable text that shows why the Buddha is a reliable teacher for those seeking liberation. We will continue next year. See photos here.
A New Nun and a New Anagarika!
Many of you remember Laresa Kerstetter who has participated in Abbey retreats for many years and has been living at the Abbey for about a year now. Laresa is a forester and spent two years in Africa as a Peace Corps Volunteer.
After completing her anagarika eight-precept training period, she requested to become a nun, and the Abbey bhikṣuṇī sangha, with Ven. Chodron as the preceptor and Ven. Khadro as the instructor, happily gave her both the sramaneri and siksamana ordinations on October 7.
Ven. Dekyi is now a novice nun who is preparing for full ordination. The ceremony was beautiful, and everyone appreciates that it is in English so that all its various aspects and meanings are apparent.
The same morning, Nicole Ackerman, who was a physics professor at Agnes Scott College, donned "the blues"—the blue outfit that anagarikas at the Abbey wear—and Ven. Chodron gave her the eight anagarika precepts. Both Ven. Dekyi's and Nicole's virtuous intentions were apparent, and everyone was joyous with their dedication to the Dharma and to training in ethical conduct. See photos of the day here.
Western Buddhist Monastic Gathering
The 26th annual Western Buddhist Monastic Gathering was held on Zoom for the first time ever this year. The organizers did a fantastic job planning the five-day event, with panels, breakout groups, and meditation sessions.
About 50 monastics from the Theravada, Zen, and Tibetan traditions attended. Many of us knew one another from previous gatherings, so we were able to catch up with old friends and greet many new ones.
The breakout groups covered a wide variety of topics: Monastic Role in Social Change, Running a Buddhist Center as a Monastic, Online Teachings, Patriarchy in Buddhism, Responding to the Pandemic, Ending Systemic Racism, Simplifying Our Lives, Relationship between Monastics and the Laity, How Resources Are Shared in a Monastery, Death and Dying, Joy of Monastic Life, and many more.
The Buddha would be pleased to see disciples of many nationalities, traditions, and ages discuss and share together with so much openness, honesty, and mutual respect. This harmony bodes well for Dharma in the West.
Finding Common Ground: Survival of the Most Cooperative
North Idaho College invited Ven. Chodron to give a talk to their students and the public on September 29, the night of the first U.S. presidential debate. She spoke on the topic "Finding Common Ground: Survival of the Most Cooperative," (watch here) emphasizing the necessity to listen to others' concerns from our hearts instead of ignoring their feelings and needs, talking over them, and telling them their ideas are wrong. What a contrast to what was happening simultaneously at the debate!
For the audience, the talk was like balm on a wound. It inspired all of us to subdue our own afflictions and self-centeredness and work for the happiness of all. We are so interdependent these days—depending on one another more than any other time in human history—so we must all work in our own sphere to communicate with one another with compassion.
Ven. Chodron also spoke at the request of Shantideva Center in New York on "Politics, Power, and Peace: A Buddhist Guide to Surviving the Elections and Creating Positive Change" (watch here). An election year and a pandemic together! Who ever imagined this? Ven. Chodron spoke about how to accept the situation, how to overcome feelings of separation by cultivating compassion, and how to communicate with people whose opinions and ideas differ from ours. You can also read her thoughts on "A True Revolution" here.
In addition, Ven. Chodron gave a "Motivational Monday" (watch here) talk especially for millennials, and she continues to teach The Thirty-Seven Practices of Bodhisattvas to Indonesians (watch here) and whoever joins in. This mind-training text gives Dharma solutions on the common problems we experience. These "solutions" are not what to say or do to make the external problem vanish, but how to change our attitude and the way we interpret events so that whatever disturbing emotions cloud our minds are subdued.
Geshe Yeshi Lhundup Teaches Illumination of the Thought
Last year, Geshe Yeshi Lhundup from Drepung Loseling Monastery in South India began teaching Tsongkhapa's Illumination of the Thought, a commentary on Chandrakīrti's Supplement to "The Treatise on the Middle Way." This year he continued the teachings on Zoom, which enabled friends from all over to join in. Watch the series here.
Teaching from the monastery in India, Geshela spoke from 9-11 pm his time— morning teachings for those of us in the U.S. He taught in English and fielded our many questions. The nuns did review sessions each afternoon. Everyone appreciated the opportunity to learn this profound text from such a skilled scholar and practitioner. We hope he will continue to teach this text to us next year.
Ongoing Online Outreach
Eastern Washington University
Dr. Daniel Pschaida, who teaches a World Religions and Engaged Pluralism/Interfaith class at Eastern Washington University, invited Ven. Samten and Dr. Gloria Chien, Professor of Religious Studies from Gonzaga University, to participate via Zoom in a classroom discussion about Buddhism. The students posed questions to a Buddhist monastic and a Buddhist lay practitioner to further their growing understanding of Buddhist practice.
The students were well prepared and receptive to what the speakers shared. A short Q&A session followed, and it was obvious that everyone found the exchange beneficial. It is wonderful that the students at EWU have the opportunity to learn about different religions, meet people of different faiths, be exposed to different points of view, and cultivate an open receptive mind towards all.
Spanish-speaking Countries
Ven. Nyima continues to share the Dharma with Spanish-speaking practitioners. She continues to meet twice monthly with students from Ganden Shedrub Ling in Puerto Rico to share teachings on the "Eight Verses of Mind Training." She was also invited to give a talk for Dharmadatta's FaceBuda YouTube Channel, which serves a large Latin American audience. Dharmadatta is a community of nuns in the Kagyu tradition who have a strong presence in Spanish-speaking communities.
Inland Northwest
Ven. Chonyi gave her annual "sermon" for the North Idaho Unitarian Universalist Fellowship in Coeur d'Alene, Idaho, speaking at their weekly worship service over Zoom. Ven. Chonyi's talk focused on spiritual resilience, especially through practicing the loving kindness meditation and nurturing awareness of our interconnectedness. She celebrated the closeness of this UU community that finds ways to connect and support each other while remaining apart physically.
Vens. Chonyi and Samten are also the presenters at the weekly meditation class offered through the Unitarian Universalist Church of Spokane (WA). There's a familiar rhythm in the Zoom course, which is now based on Ven. Thubten Chodron's Awaken Every Day: 365 Buddhist Reflections to Invite Mindfulness and Joy.
Ven. Sangye Khadro continues her monthly teaching with the "Sandpoint Sangha" in nearby Sandpoint, Idaho. They are reading, discussing, and meditating on selected verses from Shantideva's Engaging in the Bodhisattva's Deeds. She also meets regularly with the Sandpoint Sangha Book Club, which is currently going through How to See Yourself as You Really Are.
Ven. Khadro also enjoyed filling in for Yangsi Rinpoche, to lead several of his meditation classes at Maitripa College.
Middle East
Ven. Khadro also meets once a month with an Arab group from several Middle Eastern countries, and gives talks on the Thirty-Seven Practices of Bodhisattvas. Ven. Tsepal meets with the same group once a month to go through the Six Perfections.
Sravasti Abbey's 17th Birthday

On October 17, the Abbey celebrated its 17th birthday by watching videos made when we first moved in and that marked our 5th birthday in 2008. The junior monastics saw for the first time what everything looked like when Ven. Chodron and her cats, Achala and Manjusri, first moved in.
At that time, the current Meditation Hall was a garage, the cabin at the end of the garden was a tool shed, and Chenrezig Hall, Gotami House, Shanti Cabin, and Prajna Cottage were nowhere to be seen.
Everyone marveled at how big the pine, fir, and larch trees have grown in 17 years and how the orchard, veggie garden, and flower garden have expanded. We charted the changes in the location of the septic system, the installation of a new water system to serve the public, and the changing positions of fences. And of course, we laughed once again at how everyone rushed to take down the funky curtains in the house the day we moved in.
While the early home movies aren't online, you can see Ven. Semkye (here) and Ven. Jigme (here) reminisce about the weekend Ven. Chodron moved in and get a fuller history in our tenth anniversary video here.
The Buddha Hall
We continue planning for the Buddha Hall, and recently had a very productive Zoom meeting with the architect, contractor, acoustician, and electrical engineer. There is still research to be done about lighting and acoustic panels, and we're slowly making progress. Learn about the Buddha Hall project here.
With the Covid pandemic having its second wave, we can't set a date to begin construction. But we're seeing the need for the Buddha Hall more than ever now since the dining room in Chenrezig Hall is getting constantly rearranged to accommodate not only meals, but also teachings at the Abbey, Zoom teachings, meditation, and pujas, since the current Meditation Hall does not have internet.
You can still help create the causes for the Buddha Hall by dedicating merit from your Shakyamuni Buddha meditation practice. With 4.2 million reported mantra recitations, we're very near our goal of 5 million. Go here to join in.
Action to Feed the Hungry
Sravasti Abbey's Buddhist Action to Feed the Hungry took place online October 17 to encourage financial support for the many effective projects of Buddhist Global Relief (BGR).
Individuals and Dharma groups from all over pitched in, and we exceeded our goal to raise $10,000 towards BGR's food aid, sustainable agriculture, and education programs. We rejoice in everyone's generosity and merit!
In addition to talks and meditations by BGR founder Ven. Bhikkhu Bodhi and Abbey nuns, the online event showcased two of BGR's partners—the Maitreya Project and What If Foundation—who shared their work in Mongolia and Haiti, respectively. We also heard from our local Youth Emergency Services, which is now feeding 80 families a week due to Covid. Watch the event here and read more here.
It's not too late to learn about BGR and support their work here.
Tibetan Nuns Project Calendars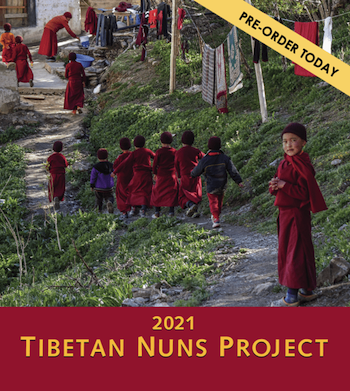 The Tibetan Nuns Project (TNP) supports over 700 nuns and seven nunneries in northern India from all Tibetan Buddhist traditions, and has been a key force in educating Buddhist nuns. Each year, TNP sells a beautiful wall calendar through their online store as a way to fundraise and "friend-raise." The calendars make great gifts, and the funds help to both educate and empower the nuns and to sustain Tibetan religion and culture. Learn about how the calendar is created here. Order the 2021 Tibetan Nuns' Project calendar here.
More News
Interviews 
Read an interview with Ven. Chodron on "Transforming Violence with Compassion" in Dharma Drum Humanity Magazine, a Taiwanese publication. The Chinese version of the interview is here.
Dharma Insights
Read Rashika's insights about moving From Grief to Compassion.
Retreat from Afar 
It's time to sign up for Retreat from Afar, January 5 to March 28 focusing on Green Tara practice. See general info and sign up. Details to come.
Books
Buddhism: One Teacher, Many Traditions by HH the Dalai Lama and Ven. Thubten Chodron is now translated into Thai, entitled Nueng Sasda…Laai Saai Dham หนึ่งศาสดา…หลายสายธรรม. The publisher is Suan Ngern Meema สวนเงินมีมา. You can order it here. It's also available on Amazon in English.
In case you don't know, Ven. Chodron's website has a page with study guides for many of the books she has authored and co-authored. The newest is a study guide for Approaching the Buddhist Path, written with HH the Dalai Lama.
Library of Wisdom and Compassion in Translation
Several volumes of the Library of Wisdom and Compassion series by HH the Dalai Lama and Ven. Chodron are now available in various languages and formats:
Learn about the entire series and find info on additional translations here.
Upcoming Events
Here's what's happening online in the next few weeks
Plus regular teachings
See schedule updates in 2020