Dear Friends,
We thank you for your care and concern for us—so many of you have written to make sure we're safe while wildfires rage throughout our state.
We had a close call one afternoon when Nicole looked out the dining room window and saw smoke. After many days of very hot weather, a fire had started in Blanchard, seven miles as the crow flies from the Abbey. Thankfully, we had a fire plan, which we activated and refined for this situation.
The wind was very strong that day, and everyone packed their emergency go-bags. Fortunately for us, the wind didn't blow in our direction and we didn't have to evacuate. Still, the nuns took turns going to the top of the upper meadow every hour that night, in case the wind changed directions.
Then came the smoke, with the air rated hazardous for many days. The smell was terrible too. We couldn't even see across the narrow valley by our property and for a while the sun disappeared, until it finally appeared as an orange circle in the gray all around us.
Our hearts go out to all those in California, Oregon, and Washington who have lost their homes or their lives. We encourage you to make donations to help those affected. May the fires and floods affecting the world be a wake-up call to all of us that climate change is real. Our actions that affect the environment matter and influence the lives of over seven billion human beings and countless animals and insects.
See September photos of Abbey life here.
Bhikshuni Thubten Chodron & the Sravasti Abbey Community
Concentration Retreat
Our annual Concentration Retreat held over Labor Day weekend is a popular one, and this year was no exception. Lots of people watched on Vimeo Livestream and participated in discussions via Zoom.
It was also an unexpected teaching on impermanence, with Ven. Chodron feeling unwell before one session and Ven. Tarpa having two minutes to prepare to step in and lead it. We often joke about the need to be flexible to live at the Abbey, and it is certainly true.
The need for flexibility continued with the power going out in the final teaching. And while we were looking forward to a relaxing afternoon at the end of the retreat, we got the wildfire described above instead. All of this is part of our training to become bodhisattvas!
Watch the meditations and teachings archived on Vimeo Livestream here. The fifth teaching that was cut off when the power went out is posted on YouTube here. See retreat photos here.
Ven. Chodron shares on the Bodhisattva's Breakfast Corner on what we learned about preparing for fires together here, and on the value of becoming more flexible here.
Sharing the Dharma Day
In September's Sharing the Dharma Day, we continued with Ven. Chodron teaching a chapter each month from An Open-Hearted Life (aka Living with an Open Heart in the UK).
Ven. Sangye Khadro led a meditation on compassion prior to the talk, which you can watch here. Ven. Chodron then spoke on "Compassionate Thinking and Mentalizing," contrasting threat-based thinking with compassionate thinking. "Mentalizing" is a psychological term that refers to training the mind in helpful ways of thinking, which Buddhists are familiar with. Watch the talk here.
The Abbey community led discussion groups in the afternoon and concluded with a sincere dedication of merit. We're continually amazed and grateful for the level of openness and sharing during the discussions. Join us for the next online Sharing the Dharma Day on October 18.
Sorting Out Tenets with Geshe Dadul Namgyal
For four days, Geshe Dadul Namgyal kindly taught Abbey monastics and an eager Zoom audience about the Buddhist philosophical tenet schools.
He began with a history of the schools and explained how studying the tenets makes us question our beliefs and why we hold them. Since the Buddha discouraged blind belief and strongly encouraged us to employ reasoning to check his teachings, it is up to us to learn, analyze, and meditate on the various assertions of how persons and phenomena exist, among other topics.
Geshela's teaching style is open and friendly, so we felt like we were discussing a profound topic with a trusted friend who guided us back to the Middle Way when we went to one extreme or another. Ven. Chodron and Ven. Khadro offered Q&A sessions that complemented the teachings, and Abbey monastics led guided meditations in the mornings.
Watch all sessions of the course here. If you enjoy studying Buddhist philosophy, join us for more teachings in October on Pramanavarttika with Geshe Yeshe Thabkhe and Chandrakirti's Supplement to the Middle Way with Geshe Yeshi Lhundup.
Birthday Celebrations
Ven. Tsepal and Anagarika Dekyi have September birthdays, as does Ven. Chodron. Since it was Ven. Chodron's 70th birthday, the Abbey community planned some special events.
In the morning, for almost three hours, we watched a video compilation of birthday greetings from Ven. Chodron's Dharma friends whom she has known for decades, as well as people from Dharma centers around the world where she has taught. These were interspersed with live performances from the Abbey community, which are now an annual tradition for Ven. Chodron's birthday. Dharma friends also made generous offerings to sponsor a birthday meal and, of course, chocolate cake!
In the evening, there was a long life meditation on White Tara to support Ven. Chodron to have good health and a long life, and to request her to continue to teach. Here, too, many people around the world participated. Watch the livestream recording here.
One of our friends in Mexico wrote us afterwards, "My kids were sitting watching the puja most of the time. Although they don't understand English, they paid attention. My four-year-old son told me at one point, 'I feel in love Mom, here in my heart.'" He was very moved by all the love and compassion, as if he understood what was going on. That is the power of love—it goes beyond words. See the photos.
To celebrate the birthday, our Canadian friend Mike Barrett made a donation in Ven. Chodron's name to The Unicorn Trust, a project to establish a school and medical center for people from the untouchable caste in Bihar, India. Learn more about their good work here.
Ongoing Online Outreach

With Ven. Sangye Khadro 
Ven. Sangye Khadro has been actively sharing the Dharma at the Abbey and online. She has just completed a series of weekly talks on the Seven-Point Mind Training by Geshe Chekawa, organized by Amitabha Buddhist Center in Singapore. The participants were grateful for the chance to go deeper into this text, which contains precious explanations of how to transform difficulties into the path to awakening and cultivate conventional and ultimate bodhicitta. Watch the archived teachings here.
Ven. Khadro also meets online with the Sandpoint Sangha one Tuesday a month, explaining verses from Shantideva's Engaging in the Bodhisattva's Deeds. They've just begun looking at Chapter Six, which contains many useful methods for managing anger—very much needed in these difficult times! Some members of this group are also part of a book club that meets weekly, and Ven. Khadro joins them once every few weeks to answer their questions. Recently they completed reading and discussing her book Awakening the Kind Heart, and are now reading How to See Yourself as You Really Are by His Holiness the Dalai Lama.
With Ven. Chodron
Ven. Chodron continues teaching on "The Thirty-seven Practices of Bodhisattvas" to a Dharma group in Indonesia twice a month. In the most recent session, she talked about the mind-training verses in the text, where the author, Togme Zangpo, presents situations that we all dread and dislike, and then proposes other ways to view these difficulties so that we take them onto the path to awakening.
The group really liked these verses and laughed when the antidotes to our afflictions turned out to be the exact opposite of what we usually want to do when dealing with problems. But while the antidotes at first seem preposterous and laughable, when we practice them, they work! Watch this series of teachings here. Join the next session live on October 17.
With Ven. Nyima
Ven. Nyima continues to lead a class on the mind-training teachings in Spanish twice a month, revisiting the "Eight Verses of Mind Training" and reviewing afflictions and their antidotes. Class participants are very enthusiastic about the topic, asking some very insightful questions. Learn more about the class here. Ven. Nyima shares about her experience leading the class on the Bodhisattva's Breakfast Corner here.
Be a Responsible Citizen: Vote!
Each of us must contemplate the challenges of being a responsible citizen. In this regard, Buddhist and yoga teachers have joined together to encourage people to vote. Learn more about Yogins Help Get Out the Vote here. This election is an important one; we can't risk being apathetic or "too busy" to vote because our future will depend on the choices we make now. Read Ven. Chodron's article, "Should Buddhists Vote?" here.
On October 14 at 7 pm Eastern Time, Ven. Chodron will give a talk entitled "Politics, Power, and Peace: A Buddhist Guide to Surviving the Elections and Creating Positive Change," at the request of Shantideva Center in New York. Join her as she navigates the challenges of how to take an ethical stand while remaining harmonious and open-hearted, and shares insights on how we can maintain a positive mind amid the political division and anger around us. Register here with Shantideva Center to attend the talk.
In Ven. Chodron's recent talk on "Finding Common Ground: Survival of the Most Cooperative," she fielded questions on how to deal with issues related to the US elections. It will be posted soon on our YouTube channel.
And Ven. Sangye Khadro gives ideas on how to use the thought-training teachings in response to the first presidential debates in this Bodhisattva's Breakfast Corner talk.
Cultivating Interfaith Connections
A small group of religious practitioners from different faith traditions in our town of Newport has started meeting monthly on Zoom. Ven. Semkye has joined the group on behalf of the Abbey to connect with participants from the Baha'i, Lutheran, Seventh Day Adventist, United Church of Christ, and Mormon faiths.
The group is exploring ways to express their common values. They hope to contribute an article to our local newspaper each month on the qualities of loving-kindness, harmony, tolerance, and compassion, to counteract the harsh, divisive rhetoric that plagues our media outlets. The group will also plant spring bulbs at the Newport post office in support of our essential workers who deliver the mail and our ballots.
The Buddha Hall
We continue with planning for our future Buddha Hall and recently had a productive Zoom meeting with our architect, contractor, and acousticians.
Given the various activities that will happen in the Buddha Hall with three meditation/ teaching spaces, a library, offices, and so on (there's even a sewing room!), the acousticians have to figure out how to keep sound in one room from disturbing people in another. It sounds easy, but there are numerous details, and we have to assess which recommendations are affordable.
We also discussed where to place the back-up generator, propane tank, and water monitors, and went over possibilities for lighting design, which still requires more research. For those of you who are already yawning, please know that the main altar design is set and the sculptors are preparing to start making the two side statues of Ananda and Mahaprajapati Gotami. The central Buddha statue will probably be made at the Abbey.
Meanwhile, with the COVID-19 pandemic ongoing, we have not set a time to begin construction. But considering the number of things we have to decide on, we're using the time wisely to plan well ahead.
The Dalai Lama Global Vision Summit
Lion's Roar magazine and Tibet House US have joined forces to offer the Dalai Lama Global Vision Summit—more than six days of Dharma talks, exercises, and meditations—freely available online October 22-27.
The Dalai Lama's courage, wisdom, and deep love, and his commitment to non-violence and forgiveness, bring a soothing balm for troubled hearts, reviving our faith in humanity and ourselves.
The Summit features more than 20 teachers, including
Ven. Thubten Chodron, to explore the themes and interests that have defined the Dalai Lama's life. We'll send an announcement with registration and schedule details in mid-October.
In the meantime, His Holiness will give a three-day teaching, streamed live, on the evenings of October 1, 2 and 3, 2020 from 8:30-10 pm (Pacific Time). Find details here.
Our Growing Online Community
The Sravasti Abbey community has been sharing the Dharma online for years, but with COVID-19, our virtual avenues to bring the Dharma to others have increased. Wishing to connect with and support all of you who reach out to us, we were at first concerned that Internet platforms make it hard to feel a sense of closeness.
As the months go by, though, we are becoming a virtual community of Dharma friends, experiencing a growing sense of warmth, safety, and trust whether on Vimeo Livestream or Zoom. Many online retreatants attend our programs consistently, building Dharma friendships with the Abbey sangha community. This shows us that when our hearts are open, connection is possible even with thousands of miles between us.
Lay meditation group on Zoom
In this vein, for many months, a group of Abbey supporters have gathered online every day on Zoom at 5:30 am (Pacific Time) to meditate together following the Abbey's morning practice structure. The group also meets three evenings a week. On Saturday mornings, an Abbey monastic will lead a guided meditation and all the rest of the daily sessions are led by lay followers. Having met together for over a year now, meditators from several countries have developed a strong, supportive online Dharma community. Write Kathy to learn more and get the Zoom login info.
Medicine Buddha Puja
We've been touched by the prayers and dedications of participants in our monthly Medicine Buddha puja. The practice is especially beneficial for healing illnesses, aiding the deceased, and re-invigorating the energy of health care professionals. Learn more about the Medicine Buddha Puja here. The next one is November 1.
Inviting Generosity for Computer Equipment
We're grateful to everyone who responded to our call last month to help upgrade our computer equipment to continue the Abbey's online outreach. We were able to purchase a new Mac Mini and computer screen, which we have put to use immediately for streaming online teachings.
We still need the 21-inch iMac as well as a 13″ MacBook Pro to replace one of our nun's computers that is on its way out.
If you'd like to support this project, you can make an offering here, and write "new computers" in the comments box. If offerings exceed the cost of these purchases, we'll apply extra funds towards audio-visual equipment for the future Buddha Hall.
Buddhist Global Relief
People have asked us, "With so much suffering in the world right now, how can we help?" One way is to join us in an Action to Feed the Hungry to support the work of Buddhist Global Relief.
The Buddha said that hunger is the worst kind of illness, yet 10 million people, many of them children, die from hunger-related causes each year. The coronavirus pandemic has only amplified the problem.
Buddhist Global Relief (BGR) combats chronic hunger and malnutrition worldwide (including in the US) by focusing on direct food aid, sustainable food production methods, and education and empowerment for women and girls.
How to help? Join the Abbey and BGR for an online Action to Feed the Hungry—a Dharma event with BGR founder Ven. Bhikkhu Bodhi, Ven. Thubten Chodron, Ven. Sangye Khadro, and others—on October 17. Go here to register for the event and make offerings.
Watch Ven. Chonyi's Bodhisattva's Breakfast Corner talk about the event, "By Kindness We Are Fed."
More News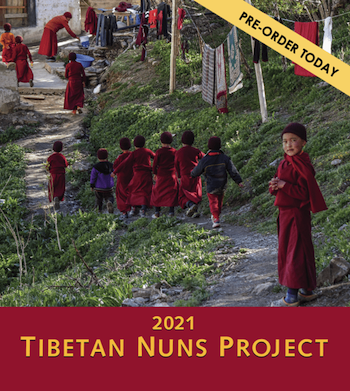 Tibetan Nuns' Project Calendars
Each year, the Tibetan Nuns' Project sells a wall calendar through their online store as a way to fundraise and "friend-raise." Learn more about how the calendar is created here. You can pre-order the 2021 Tibetan Nuns' Project calendar here.
Books
Approaching the Buddhist Path, the first volume of The Library of Wisdom and Compassion by the Dalai Lama and Ven. Chodron is now available in paperback here.
Buddhism: One Teacher, Many Traditions is also available in paperback here, and there are two Wisdom Experience online courses in which Ven. Chodron reads and comments on the book. Learn more here and here.
Interviews 
Ven. Chodron was interviewed by Lama Yeshe Rabgye for a "Motivational Monday" talk series for the staff of the social enterprise RoundGlass. Watch the interview here.
Ven. Khadro was interviewed on the podcast, "A Skeptic's Path to Enlightenment," where she spoke about the natural goodness of our mind. Listen to the podcast here. Also look out for her guided meditation on Buddha nature that will be published on the same podcast on October 6.
Dharma Insights
Inspired by the Thursday morning teachings on Shantideva's Engaging in the Bodhisattva's Deeds, Ven. Tsepal wrote some aspirations for degenerate times to inspire our minds to take hold of great compassion and bodhicitta and practice it now. Read them here.
Read Ramesh's reflection on not taking our lives for granted here.
Upcoming Events
Here's what's happening online in the next few weeks

Plus regular teachings
See schedule updates in 2020