Indonesia: Teachings with Ven. Thubten Chodron
November 26 @ 10:00 am

-

December 3 @ 5:00 pm

WIB
Hosted by Wihara Ekayana & Wihara Suddhi Bhavana
Asia Teaching Tour – Jakarta & Bandung, Indonesia
with Ven. Thubten Chodron
Celebrate Sravasti Abbey's 20th Anniversary with Ven. Thubten Chodron in Indonesia
November 26-December 3
Dates, times, and topics below
Please consider wearing a mask to the talks to help keep our teacher safe and healthy.
---
Indonesia: Jakarta
All talks in Indonesia include consecutive translation into Bahasa Indonesia.
Jl. Mangga 2 No.8, RT.8/RW.8, Duri Kepa, Kec. Kb. Jeruk,
Kota Jakarta Barat, Daerah Khusus Ibukota, Jakarta 11510
Transforming Knowledge into Action
November 26, 2023
10:00 am to 12:00 pm
Hearing and studying the Buddha's teachings is the first step, but how do we go further to translate them into action? Venerable Thubten Chodron teaches how we can turn what we have learned about the Dharma intellectually into practical action that transforms our lives and relationships with others.
QJ5Q+89M, Jl. Ki Hajar Dewantara, Pakulonan Bar., Kec.
Klp. Dua, Kabupaten Tangerang, Banten 15810
The Practices of Bodhisattvas
November 28 & 29, 2023
7:00 pm to 8:30 pm both days
What should we do to become fully awakened buddhas? Venerable Thubten Chodron lays out a step-to-step guide to buddhahood by following the example of the activities that bodhisattvas carry out to fulfill their aspiration of attaining buddhahood for the benefit of all beings.
---
Indonesia: Bandung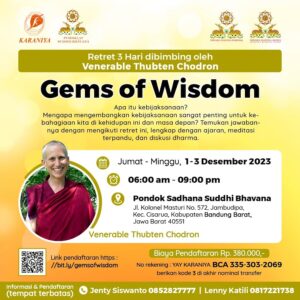 No., Jl. Kolonel Masturi No.572, Jambudipa, Kec. Cisarua,
Kabupaten Bandung Barat, Jawa Barat 40551
Gems of Wisdom
December 1 to 3, 2023
Residential retreat
What is wisdom, and is it different from having a high IQ? Venerable Thubten Chodron offers a weekend retreat with teachings, guided meditations, and discussion on the different types of wisdom and why cultivating wisdom is essential for our happiness in this and future lives.
All Abbey Dharma programs are offered freely, and your offering is welcomed. 
Venerable Thubten Chodron is an author, teacher, and the founder and abbess of Sravasti Abbey, one of the first Tibetan Buddhist training monasteries for Western nuns and monks in the US. She graduated from UCLA, and did graduate work in education at USC. Ordained as a Tibetan Buddhist nun in 1977, she has studied extensively with His Holiness the Dalai Lama, Tsenshab Serkong Rinpoche, and Lama Zopa Rinpoche. She received full ordination as a bhikshuni in 1986.
She has published many books on Buddhist philosophy and meditation, including seven volumes (so far) in The Library of Wisdom and Compassion, co-authored with His Holiness the Dalai Lama, with whom she has studied for over forty years.
Venerable Chodron teaches worldwide and is known for her warm, practical, and humorous explanations of how to apply Buddhist teachings in daily life. She is also involved in prison outreach and interfaith dialogue. Learn more about her. Find a media library of her teachings and info on her books on her personal website, ThubtenChodron.org.