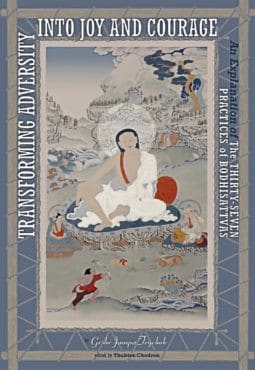 Now, we have the fortune to have a precious human life and to know a little about the Dharma. If we practice Dharma well, we are repaying the kindness of sentient beings more than if we give a little food, clothing, or medicine.
Although helping others by giving food and so forth is very important and worthwhile, it removes others' suffering only temporarily. Because they are in cyclic existence, their problems will resurface.
However, if we are able to show others the Dharma, it enables them to practice the path which will free them from all suffering and bring them all happiness. This is an excellent way to repay their kindness.
Most beings are ignorant of karma and therefore do not know how to create the causes of happiness and avoid the causes of suffering. Some know this, but do not have the opportunity to practice.
We have met with a method that can lead us to full enlightenment, a state in which we will have the greatest capability to help others. Therefore we should put energy into learning, thinking, meditating, and practicing in order to progress on the path to enlightenment.
All such efforts are ultimately the finest way to repay the kindness of others.